Ewa Gilewska
National Museum, Gdańsk
Olęder furniture from Żuławy in the collection of the Department of Ethnography, National Museum in Gdańsk
The collection of Żuławy furniture, which is located in the Department of Ethnography of the National Museum in Gdańsk, comprises 59 items. The furni-ture was collected between 1960 and 1985; however, the bulk of it was obtained in the 1960s and at the beginning of the 1970s. The collection was created pri-marily by Longin Malicki, who was the head of the Department of Ethnography until 1973, as well as Krystyna Szałaśna and Teresa Przała. The majority of the items were obtained during field trips to Żuławy directly from their recent own-ers, that is, settlers who came here from various regions of Poland after 1945. The furniture was often used according to its purpose until it was purchased or was stored in attics or porches of the "old Żuławy cottages". In general, we know that these items "remained after the former residents of Żuławy" and be-longed to "the old settlers" or "Frisian colonizers".

Antoni Idzikowski, a chimney sweep from Nowy Dwór Gdański, is a val-ued collector, whose assistance proved very helpful in acquisition of many items. In 1960s, Mr. Idzikowski was a caretaker of historical objects on behalf of the PTTK (Polish Tourist Association). During several years of disinterested activity, he managed to collect ca. 130 items including some furniture. Traveling across Żuławy, searching through attics, he became a devoted art collector and later passed the collected items to the museum with certificates of their ori-gin[1] .

Some items came without any information about their origin. They were bought in antique shops, sometimes acquired from private collectors, or came from the Dział Rzemiosł Muzeum Narodowego (Department of Crafts of the National Museum). We know that already in the interwar period the two chairs with woven seats and carved backrests were in private collection of the former director of the library in Gdańsk. They were donated to the museum in 1974.

The furniture in the Żuławy collection originated from dozen or so vil-lages located in the Nowodworski district in the former Gdański voivode-ship[2] . The majority of the items were made at the end of the 18[th] and in the 19[th] centuries. The oldest ac-curately dated items in our possession are chairs are from 1755 and 1776 and wardrobes from 1793 and 1795, while the majority of chests date from 1870s.

The furniture was probably made in several woodcarving and cabinetmak-ing shops in Żuławy Gdańskie and Żuławy Elbląskie. Currently, due to the lack of source materials, it is impossible to attribute the individual items to specific workshops. It has been emphasized in numerous publications about the Elbląg and Żuławy furniture making that investigation of the works of Elbląg crafts-men, all the more the activities of workshops that operated outside this center is quite difficult[3] . There is no doubt that Elbląg was the main center of furniture making, however, some of the items with more conservative and modest form and decoration were made in local woodworking shops in Żu-ławy. These shops provided furniture to Żuławy farmers with affluent home-steads and large estates. Due to the fact that the furniture in our collection dem-onstrate features that are characteristic of specific period furniture, it seems ap-propriate to describe the characteristics of the Elbląg furniture making and its influences. The Elbląg-Żuławy furniture style developed at the meeting of the Elbląg urban culture and the tastes and woodworking skills of the Dutch settlers. Historians, who proposed the above thesis, were aware of an important furniture making centre located in the Elba outlet area, in northern Germany. This center was active between the 16th and 19th centuries and during the baroque produced characteristic furniture decorated with intarsia. This type of furniture decoration also appeared in Elbląg and was probably introduced by the Dutch, who came to this region from the areas surrounding the Elba river, which they had colonized as early as the 13th century. This can be confirmed by isolated examples, which, however, show many common decorative motifs used by both furniture making centers. Among the names of the Elbląg furniture makers are Polish surnames as well as names of craftsmen from various European countries. The local wood-workers also had an opportunity to become acquainted with intarsia decoration through British residents of the city, who imported furniture from their home-land[4] .

The regional furniture style characterized mainly by rich painted orna-mentation and also intarsia was influenced by the Elbląg furniture with intarsia inlays. Intarsia in the form of an eight-pointed star, quadrilaterals, vases with flowers, and free-form flowery patterns is fitted on chests, which were used by Elbląg burghers to store wardrobe and later by Żuławy farmers as dowry chests. Rev. Władysław Łęga mentioned in his monograph about the Malbork region that intarsia inlays were not made by regional craftsmen, but were created by an intarsia specialist in the city, who kept the patterns of the old mas-ters[5] .

Pieces of painted regional furniture are examples of high technical profi-ciency and artistic talent of the craftsmen who made them. This furniture shows influences of period furniture making, especially that of the baroque and rococo. The links to the period furniture form are very strong and almost contemporary with the prevailing official style. Wardrobes and trunks from the 18th century are an example.

Moving back a century earlier, we find sources that describe household furnishings. The information included in these sources is fragmentary and is re-lated to Żuławy Gdańskie, but it confirms the affluence of region residents. Oak double beds with baldachins, sometimes even two per household, regular spruce beds, and beds for servants and farmhands are mentioned among other items. This indicates that these houses were inhabited by multigenerational families. Furthermore, there were several wardrobes per household; these were free-standing or wall wardrobes of different sizes and made of various types of wood. There were also cradles and even a baby carriage. Tables and benches were simple and did not have any remarkable features, but chairs and armchairs up-holstered with leather were mentioned. Even mirrors and grandfather clocks were among the furnishings of Żuławy houses[6] .

Unfortunately, regarding the 18th and 19th centuries, the source material has not been investigated in relation to furniture and furnishings of Żuławy houses. The historical items collected in museums provide interesting informa-tion about the subject. Museum in Oliwa has 440 historical artifacts related to Żuławy, including 59 pieces of furniture. The Żuławy collection in the Elbląg Museum is smaller with 85 artifacts including 25 pieces of furni-ture[7] . The Castle Museum in Kwidzyń has 64 artifacts includ-ing 6 pieces of furniture[8] .

The collection of Żuławy furniture located in the Oliwa museum includes: 11 chests, 1 box for documents, 6 wardrobes, 2 wall cupboards, 8 chairs, 12 stools, 2 beds, 4 tables, 1 cradle, 6 benches, 1 chest-bench, 1 shelf, 1 spoon rack, 1 small chair, and 2 clocks.

Chests are primarily made of pine, but also of ash and oak wood. They all have a cuboidal shape with a flat lid, whose edges are bound with wooden slats. The bottoms are bound with a profiled molding. Their bases, which survived in small numbers, have a form of a frame supported by 5 short, arched legs. Some chests are supported by turned, round legs.

Chests are painted to imitate beige or red-brown veneer; in some chests, the natural wood grain is visible under the paint. Two chests are decorated with in-tarsia inlays; they were stored in attics of Żuławy houses in Ołowo and Błotnik near Małe Cedry up until the moment of their acquisition (fig. 1). They have a one- or two-field decoration. The face, the lid, and the sides of one of the chests are decorated with intarsia. The inlays are surrounded by a frame that alludes to baroque ribbon motifs. The inside is decorated with flower motifs and intarsia in the form of letters (initials). Decoration of three painted chests clearly and di-rectly refers to intarsia ornamentation: the flower bouquet is made exclusively with a brown contour (fig. 2). The other chests have multicolor decoration in the form of bouquets of realistically depicted tulips, roses, carnations, forget-me-nots, and narcissuses. The bouquets are tied with a ribbon or are in slender vases with two handles (fig. 3); in the chest from 1871, the bouquet grows out of the horn of plenty (fig. 4). The bouquet composition is enclosed by a double frame, which is a folk version of the 18th century ribbon motifs. The wall cor-ners are decorated with painted columns with high pedestals and rosettes. The columns are crowned with stylized capitals in the form of acanthus leaves. The sides are decorated with a single frame with fragments of the face motifs placed in its fields. The majority of the chests have no locks, but their plates did sur-vive; they are all made of brass and have a shape of a lily or an elaborate ba-roque pattern. The plates are identical to the plates in the Elbląg chests with in-tarsia inlays. The lids are nailed with brass studs, while the sides are equipped with heavy handles. The plates below the handles are made of brass or steel and are in the shapes of ovals, rhombs, and vases decorated with cold forged orna-ments (fig. 5).

Wardrobes date from the turn of the 18th and 19th centuries; two of them have dates 1793 and 1795 located on their pediments. Wardrobes have a three-tier structure and consist of a box pedestal, a main sec-tion with double (or single) doors, and a top. Each tier was made separately and then connected by wedge and groove joints. These sections are separated by pro-filed and painted moldings. Tops of five wardrobes are trapezoidal and are raised in the center; its shape resembles baroque tops. The top of the sixth ward-robe is made of two voluted moldings separated by a pinnacle (fig. 6). The sides of the wardrobe have slanted corners; this form refers to furniture stylistically closer to rococo.

The structure of the top in the presented wardrobes is characterized by a quarter-circular cross-section of the crowning molding's lower layer, which confirms the direct links of these items to stylistic Elbląg furniture. M. Rehorowski pointed out that the cross-section of this element is an important detail of the Elbląg wardrobe and similarly constructed regional wardrobes and does not occur in Gdańsk, Toruń, or foreign wardrobes. In regional furniture items, this element is additionally emphasized by a vertical arrangement of painted wood grain.

The main, central tier of the wardrobe has a framed structure with single or dou-ble leaf doors. The doors provide the main surface for painting decoration. They have lower fitted door panels framed with profiled slats. This type panels - con-cave, rather than convex - are characteristic of the Elbląg wardrobes. Doors are equipped with a decorative brass lock plate. The wardrobes are usually light - cream or beige with darker streaks that imitate wood grains. They are decorated with ornaments that refer to inlayed baroque ribbon motifs; the decorative fields on doors or sometimes pedestals are marked and framed in such a way. The rib-bon motifs with intersecting straight and arched lines were also used on the wardrobes' sides and in the middle of the front panel. The decorative fields are embellished with painted colorful flower bouquets with a clearly elongated composition. The bouquets are situated in fanciful vases with two handles or are tied with a ribbon. The flowers are realistically depicted. The bouquets in-clude: roses, carnations, bellflowers, and tulips with small oval leaves (fig. 7). Small flower bouquets sometimes also embellish corners of door panels and fields of ribbon motifs.

As opposed to the decorations of the main section, the pedestal and top have horizontal ornamentation. The pedestals framed by the ribbon motifs are deco-rated with flower compositions similar to those on the doors. Two items from Żuławki and Stobiec are decorated with motifs that resemble rococo shell-like curves. The tops of wardrobes from Stobiec and Lubieszewo are interestingly decorated with a symmetric ornament composed of two stylized horns of plenty with stems sprinkled with flowers (fig. 8). Plant motifs prevail in decorations of regional painted furniture; zoomorphic depictions are also present, but occur rarely. A depiction of silhouettes of two birds decorates the top of one of the items in our collection, the dated wardrobe from Kępiny Małe (fig. 9). A similar bird depiction occurs in the pediment tympanum of an inlayed corner cupboard from the beginning of the 19th century shown in the catalogue of the collection of Edward Parzych from Elbląg[10] .

Wedding chairs constitute an interesting and accu-rately dated group of artifacts. The oldest chair dates from 1755 (fig. 10) and the most recent from 1852. The term "wedding chair" refers to the fact that they were a gift of a groom to his future wife. Chairs with similar design and applied ornamentation, but with additional polychrome are called "Brautstuhl" [11] . The name "a spinner's chair", which also occurs in the catalogue, seems to be erroneous. Such classification might have been a result of a fact that the design of this chair and the chair in our collection are similar. The similarities refer to the short turned legs with rings, the back rest consisting of small balustered rungs, and the woven seat. Such a chair was designed for working at a spinning wheel (it was probably made by the same craftsman) and its left armrest was lower than the right one or did not have the left armrest at all. In our chairs there are no armrests. Furthermore, the backrest is higher than in the wedding chairs and lacks the rich decorations. The love symbolism de-tectable in the decorative motifs of the backrest provide another important clue confirming that our chair is a wedding chair rather than a spinner's chair. A date and initials often inscribed in a heart shape are always incorporated into the backrest field. The backrest provides a surface for rich carved decoration, which includes plant, flower, geometric and zoomorphic motifs. Unfortunately the ori-gins of these items are unknown; the only information we have confirms that the furniture came from Żuławy and belonged to the former Frisian settlers.

Other household furnishings are characterized by diverse forms and skil-ful craftsmanship but usually lack the painted colorful decorations or carved or-naments.

Leisure furniture is characterized by interesting technical and functional solutions. The pine bed with a baldachin and a profiled pediment (fig. 11) and the chest-bench with a slatted backrest, a sliding chest, and an openable seat are typical for the Żuławy region. This last item can be converted into a comfortable bed for several people by lifting the seat board and puling out the front wall supported by short legs. Twin benches are also interesting. Normally, they were used for sitting, while during the night, for sleeping. They were placed next to each other and connected by boards that set on the seats. There is only one cradle in the Żuławy collection. The item probably dates from the 19th century; its tops are decorated with three-leaf carvings. Stools, on the other hand, have been preserved in large numbers. They are painted red-brown or blue; their seats are made of trapezoid boards and decoratively profiled backrests usually with heart-shaped holes. Only several items are decorated with flower motifs and a dark frame on the edges. Among the leisure furnishings are also various types of benches equipped with board legs, which are diagonally fitted and decoratively carved on edges. The backrest and armrests of one of the items are slatted. Tables are also noteworthy items among the household furnishings. The items from Nowa Kościelnica have a particularly solid structure; they have large tabletops supported by two profiled board legs connected by a bar or a crosspiece. Additionally, they are sometimes equipped with a drawer. In the Żuławy collection, there are also single examples of other furnishings. The corner cupboard from Kobyla Kępa is par-ticularly interesting (fig. 12). The item is similar to Elbląg wall cupboards from the turn of the 18th and 19th centuries. The cupboard is beige and is covered with a brown painted pattern. Date 1865 is inscribed on its trapezoid pediment. Such cupboards were probably used to store spices or functioned as a medicine cabinet. A studded oak box for documents and money is also a rare item (fig. 13); inside, there is a small half-box with a lid. The box dates from the turn of the 18th and 19th centuries. The collection is complemented by two wall clocks with decorated faces. One of them dates from 1866 and comes from Że-lichowo; it was probably made locally (fig. 14). The clock has a richly deco-rated face made in a smith's workshop. The second one is a 19th century, fac-tory-made German product. (fig. 15).

The items from the Żuławy collection were presented multiple times on exhibitions in Gdańsk, Tczew, Elbląg, Kmiecin, Nowy Dwór Gdański, and To-ruń. The furniture together with artifacts from other regions of Pomorze Gdańskie have been on display for many years in Pałac Opatów in Oliwa. In 1975, they were displayed on a large exhibition in Toruń devoted to old folk furniture from northern Poland. The exhibit demonstrated how furniture from different regions of this section of Poland can be combined into uniform sets. A similar exposition but much smaller took place in Spichlerz Opacki in Gdańsk in 1994. Several pieces of the Żuławy furniture were presented on exhibition "Mennonites in Poland" in the Museum of Vistula in Tczewo in 1997. Further-more, old furniture was displayed on exhibits devoted to history and culture of Żuławy. The furniture was presented together with other artifacts from that re-gion, such as, objects related to fishing, agriculture, housekeeping, and ceramics. Exhibitions of this type took place in Nowy Dwór Gdański and Kmiecin in 1977, in Elbląg in 1981, and in Pałac Opatów in Gdańsk in 1988.

To date, the collection of Żuławy furniture has not been described in an extensive study. Its characteristics were presented in the context of the entire furniture collection in our museum. Among the available publications, notewor-thy are the following two papers: an article by I. Szatyłowska from 1970, which primarily analyses the structure and ornamentation of painted furniture and the K. Szałaśna's study included in the catalogue of the Toruń exhibit from 1976. Some information about the subject was provided in the L. Malicki's study re-garding the folk culture of Pomorze Gdańskie and an article by A. Kwaśniewska devoted to life and culture of the former residents of Żu-ławy[12] .


---
Illustrations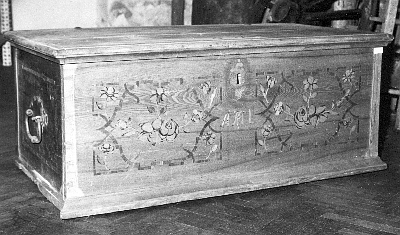 Fig. 1) Chest, Błotnik, dist. N. Dwór Gdański, 18th/19th cent., 139x54x68 cm, intarsia,
MNG-E- 2631.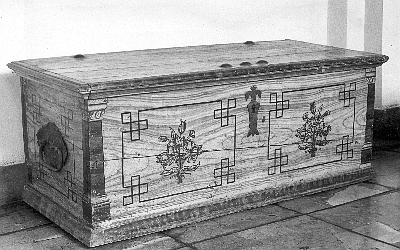 Fig. 2) Chest, Mikoszewo, dist. N. Dwór Gdański, 2nd half of the 19th cent., 131x58x54 cm, polychr., MNG-E- 1990.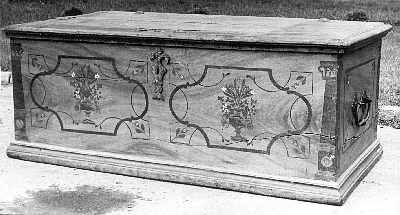 Fig. 3) Chest, Stobiec, dist. N. Dwór Gdański, end of 18th cent., 140x71x 55,5 cm, polychr., MNG-E- 1083.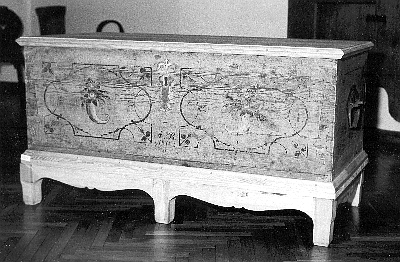 Fig. 4) Chest, Żuławy, dated 1871, 129,5x66x50 cm, polychr., MNG-E-4509.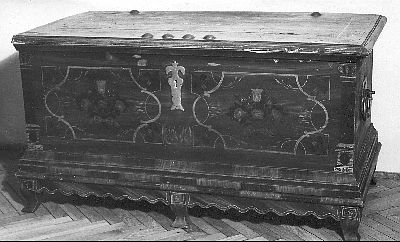 Fig. 5) Chest, Marzęcino, dist. N. Dwór Gdański, dated 1878, 131x65x73 cm, polychr., MNG-E-2628.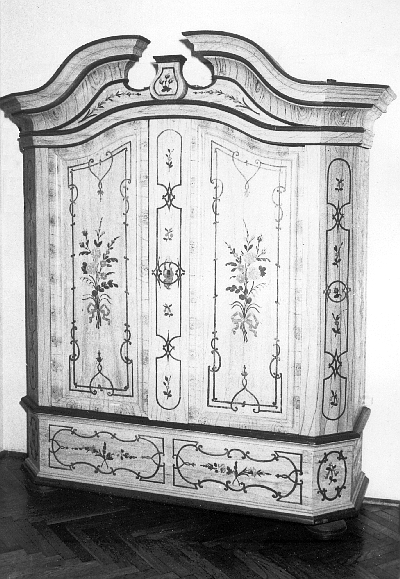 Fig. 6) Wardrobe, Żuławy, end of 18th cent. 216x155x54 cm, polychr., MNG-E- 4881.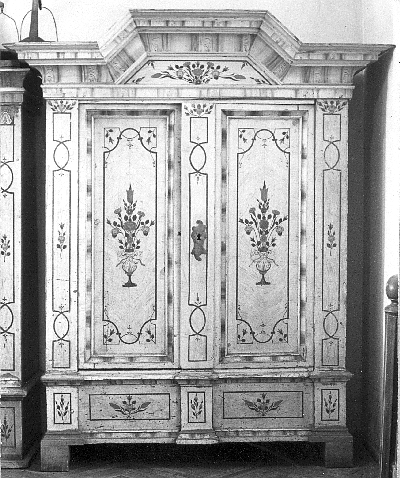 Fig. 7) Wardrobe, Tujsk. dist. N. Dwór Gdański, 18th/19th cent., 203x131x53 cm, polychr.,
MNG-E- 2625.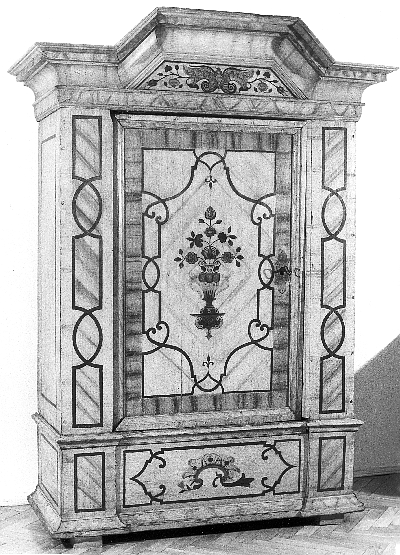 Fig. 8) Wardrobe, Stobiec, dist. N. Dwór Gdański, 18th/19th cent., 191x117x48 cm, polychr.,
MNG-E- 1097.




Fig. 9) Painted decoration of wardrobe top, Kępiny Małe, dist. N. Dwór Gdański, dated 1793, 198x144x44 cm, polychr., MNG-E- 1098.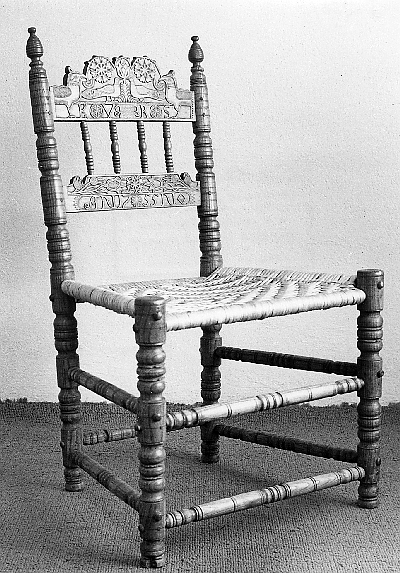 Fig. 10) Chair, Żuławy, dated 1755, height 82 cm, carved decoration, MNG-E- 3295.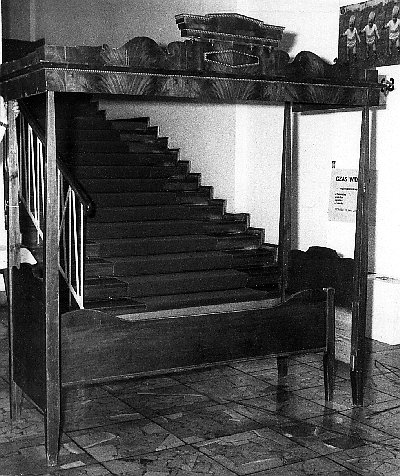 Fig. 11) Bed with baldachin, Nowa Kościelnica, dist. N. Dwór Gdański, end of 19th cent., height. 215 cm, polychr., MNG-E- 2837.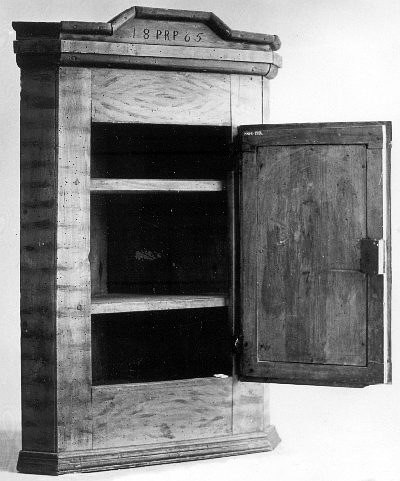 Fig. 12) Corner cupboard, Kobyla Kępa, dist. N. Dwór Gdański, dated 1865, 86x43x40 cm, polychr., MNG-E- 1986.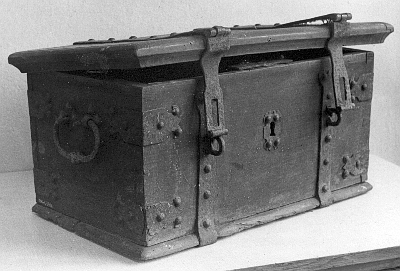 Fig. 13) Box for documents, Żuławki, dist. N. Dwór Gdański, 18th/19th cent., 54x27,5x29,5 cm, MNG-E- 3916.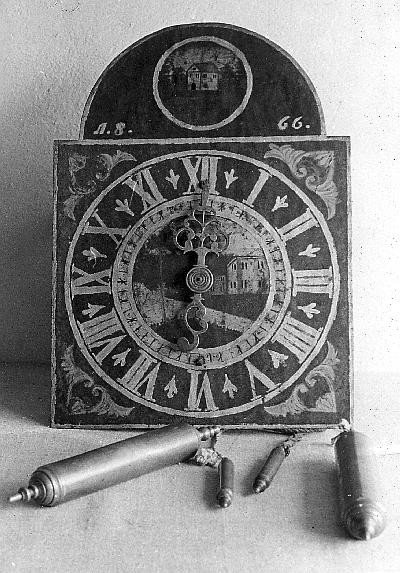 Fig. 14) Clock, Żelichowo, dist. N. Dwór Gdański, dated 1866, 46,5x31,5x17 cm, polychr., MNG-E- 3297.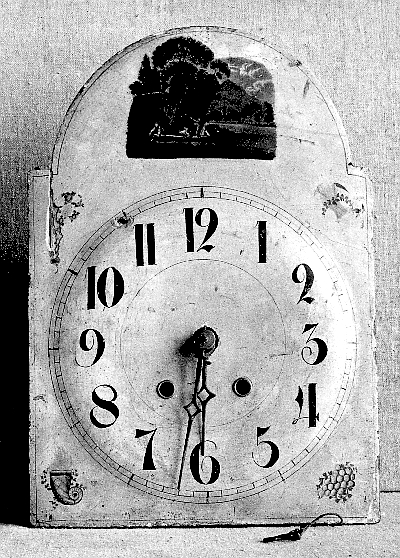 Fig. 15) Clock, Żuławy, 19th cent., 43x30,4x15,5 cm, polychr., MNG-E- 2842.