List of illustrations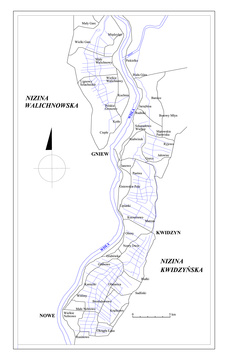 1. Map of the Kwidzyn Lowlands and Walichnowy Lowlands (prepared by M. Prarat)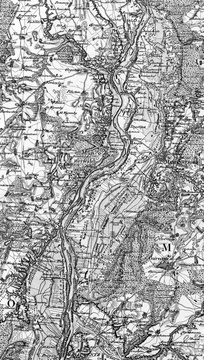 2. Nizina Kwidzyńska na pocz. XIX w. (L. Schroetter, Historisch..., section XV)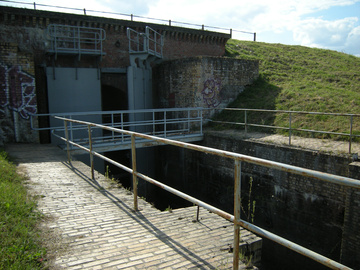 3. Sluice at Rybaki place, built in 1896 (phot. M. Prarat, 2009)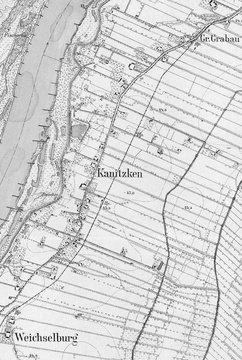 4. A fragment of the Kwidzyn Lowlands with places settled in the first phase of immigration, dated to the 2nd half of the 16th century (Topographische Karte, Neuenburg, 1909 r.)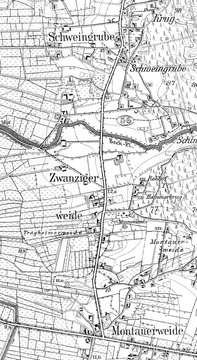 5. A fragment of the Kwidzyn Lowlands with places settled in the 2nd phase of immigration in the 18th century (Topographische Karte, Rehhof, 1913)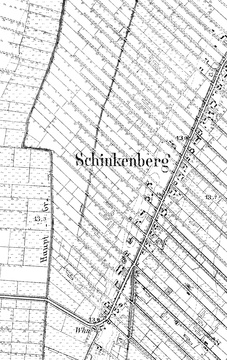 6. A fragment of the Kwidzyn Lowlands. Bronisławowo village with a very regular layout of homesteads and drainage ditches (Topographische Karte, Neuenburg, 1909)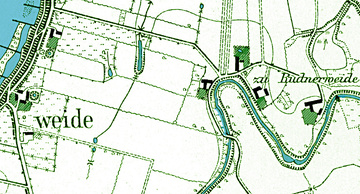 7. A fragment of the Kwidzyn Lowlands. Rudniki village with an irregular layout of homesteads. Visible layout of a farm with a homestead (Topographische Karte, Rehhof, 1913)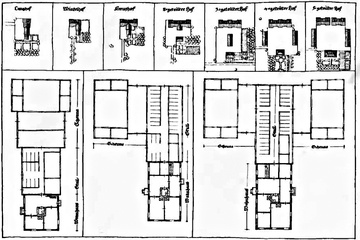 8. Three types of combined marshland farms which house the living quarters, farming facilities and a barn under one roof. A linear, angle and cross shaped homestead. (O. Kloeppel, il.74, p. 179.)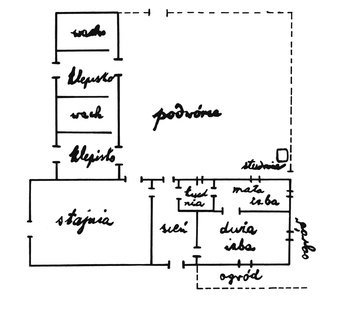 9. Janowo. Non-existing angle-shaped homestead. (W. Łęga, il. 20, p. 33)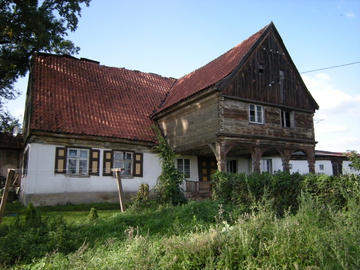 10. Kaniczki 4, the 1st quarter of the 19th century. A linear homestead with an arcaded side extension. (phot. M. Prarat, 2008)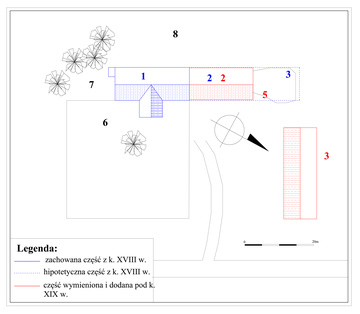 11. Kaniczki 4, the 1st quarter of the 19th century. Layout of the homestead with changes made in the 19th century. Legend: 1-living quarters, 2-cow-shed, 3-barn, 4-elders' room, 5-cesspool, 6-flower and vegetable garden, 7-orchard, 8-field, 9-tobacco drying facility (prepared by M. Prarat)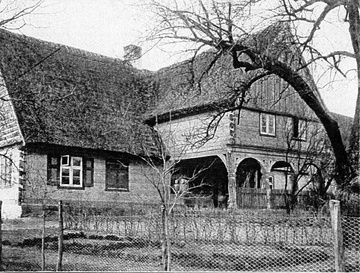 12. Kaniczki 4, the 1st quarter of the 19th century. A linear homestead with a side extension. (H. Wernicke, Bauernhauser..., il. 2)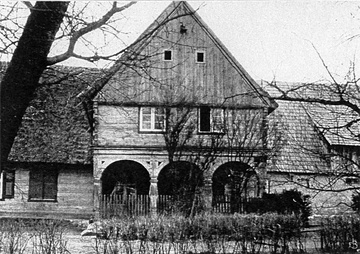 13. Kaniczki 4, 1 ćw. XIX w. A linear homestead with a side extension. (H. Wernicke, Bauernhauser..., il. 3)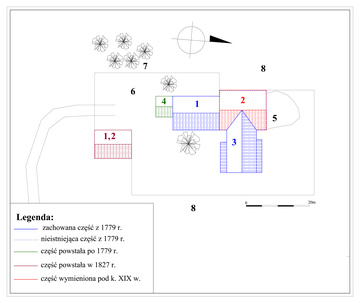 14. M±towskie Pastwiska 30, 1779,1827. An angle-shaped homestead with an elders' room and a house for workers. The layout of the homestead incorporates changes made in the 19th century. Legend: 1-living quarters, 2-cow-shed, 3-barn, 4-elders' room, 5-cesspool, 6-flower and vegetable garden, 7-orchard, 8-field, 9-tobacco drying facility. (prepared by M. Prarat)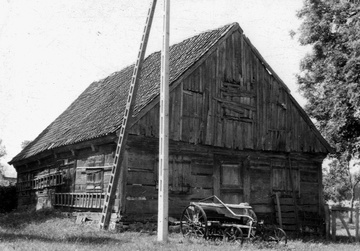 15. M±towskie Pastwiska 30, a house for workers, dated to 1827. (MET, sign. sign. II-197-82)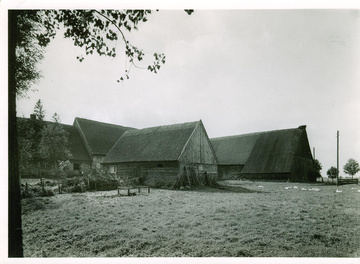 16. An angle-shaped homestead with a house for workers. Żuławy Wi¶lane [The Vistula Marshland]. Marienburg - Archiv Hamburg.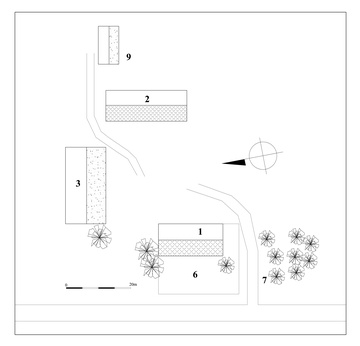 17. Bronisławowo 10, 1847. The layout of a scattered homestead. Legend: 1-living quarters, 2-cow-shed, 3-barn, 4-elders' room, 5-cesspool, 6-flower and vegetable garden, 7-orchard, 8-field, 9-tobacco drying facility. (prepared by M. Prarat)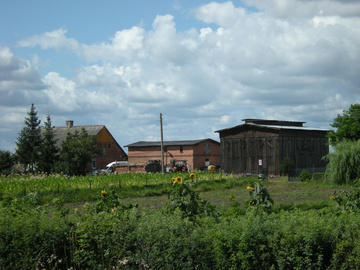 18. Bronisławowo village. A scattered homestead with a tobacco drying facility. (phot. M. Prarat, 2009)




19. ZPresentation of ground floor plans of living quarters over centuries. Legend: a) M±towskie Pastwiska 30, b) Zwanzigerweide, c) Kaniczki 4, d) Janowo, e) Jarzębina 12, e) Wielkie Nebrowo 24; S - hallway, I - chamber, Kch - kitchen, K - larder, CzK - black kitchen.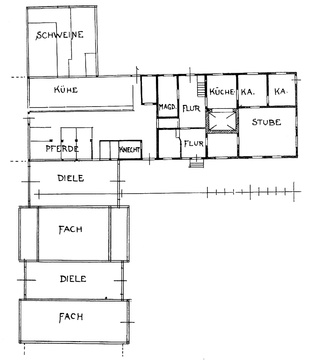 20. Homestead of Ediger from Zwanzigerweide. Plan of the basement. (Schmid B., Kreis Stuhm, il.92, p. 326)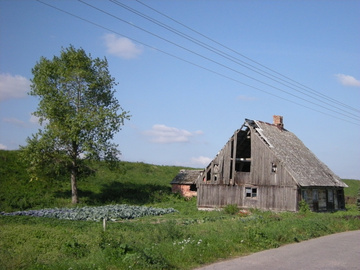 21. Homestead Wielkie Nebrowo 24. (phot. M. Prarat, 2008)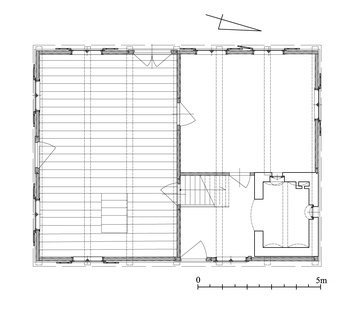 22. M±towskie Pastwiska 30, a house for workers, dated to 1827. Plan of the basement. (prepared by M. Prarat)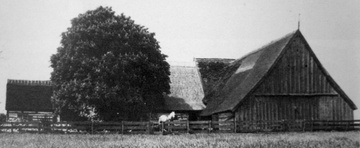 23. Angle-shaped homestead M±towskie Pastwiska 30. View from the road. (Heimat zwischen Weichsel..., p. 282)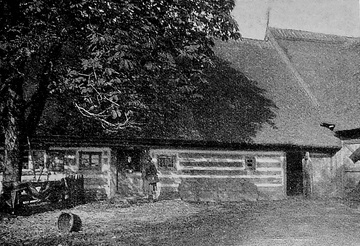 24. Angle-shaped homestead M±towskie Pastwiska 30. View from the road. (Schmid B., Kreis Stuhm, il. 97, p. 325)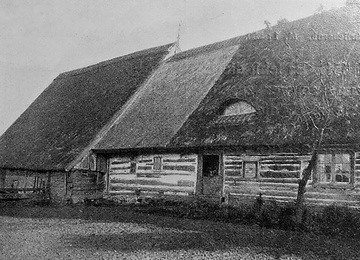 25. Angle-shaped homestead M±towskie Pastwiska 30. View from the field. (Schmid B., Kreis Stuhm, il. 96, p. 324)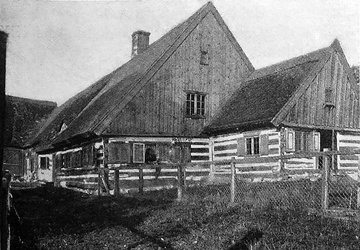 26. Cross-shaped homestead of Lietza from M±towskie Pastwiska village, with an elders' chamber at the gable wall. (Schmid B., Kreis Stuhm, il. 101, p. 327)




27. Cross-shaped homestead of Lietza from M±towskie Pastwiska village. Drawing as seen from the field. (Schmid B., Kreis Stuhm, il. 103, p. 328) (Schmid B., Kreis Stuhm, il. 103, s. 328)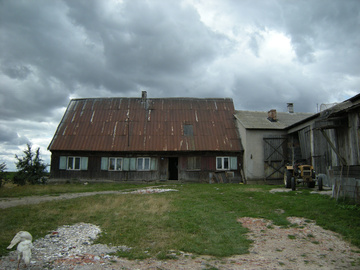 28. Jarzębina 12. Originally, the homestead had an angle-shaped layout. (phot. M. Prarat, 2009)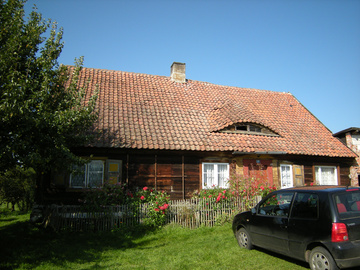 29. Homestead Barcice 20. The living quarters with the original angle-shaped layout. (phot. M. Prarat, 2008)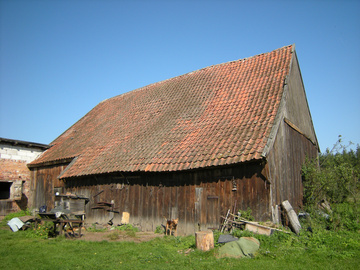 30. Homestead Barcice 20. The barn of the homestead with the original angle-shaped layout. (phot. M. Prarat, 2008)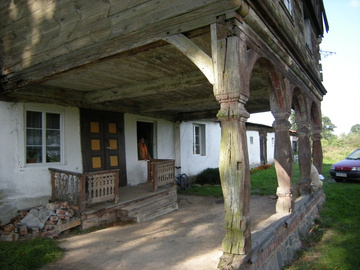 31. Kaniczki 4, the 1st quarter of the 19th century. An arcade side extension based on four posts. (phot. M. Prarat, 2008)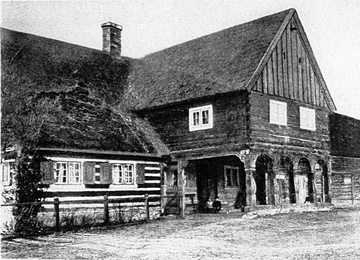 32. Non-existing homestead with an arcade side extension, which belonged to farmer Sidau from Wi¶liny village.( H. Wernicke, Bauernhauser..., il. 4)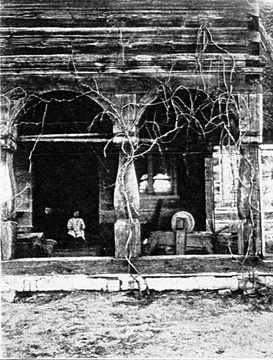 33. Non-existing homestead with an arcade side extension, which belonged to farmer Sidau from Wi¶liny village. A fragment of the side extension with a post. (H. Wernicke, Bauernhauser..., il. 5)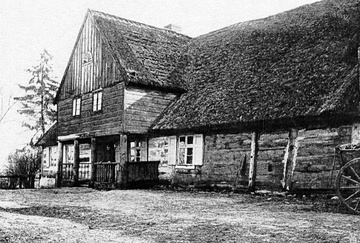 34. Non-existing homestead with an arcade side extension, which belonged to farmer Steege from Wi¶liny village. (H. Wernicke, Bauernhauser..., il. 1)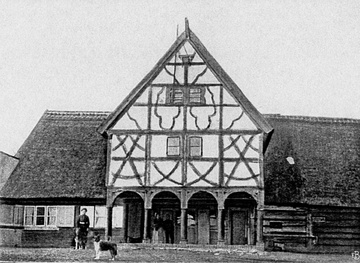 35. Non-existing homestead with an arcade side extension, which belonged to farmer Nehring from Olszanica village. (H. Wernicke, Bauernhauser..., il. 7)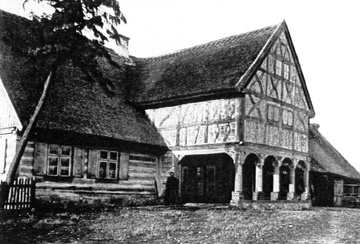 36. Non-existing homestead with an arcade side extension, which belonged to farmer Porgan from Olszanica village. (H. Wernicke, Bauernhauser..., il. 6)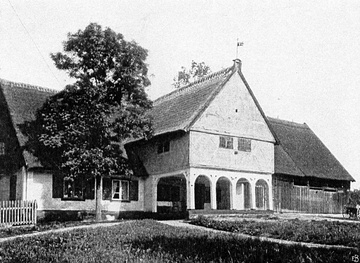 37. Non-existing homestead with an arcade side extension, which belonged to farmer Schulz from Pastwa village. (H. Wernicke, Bauernhauser..., il. 8)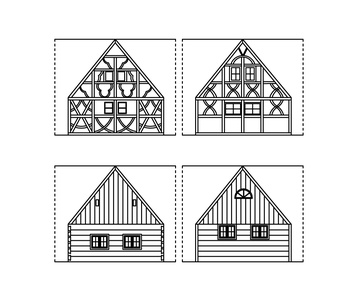 38. Schematic presentation of forms of façades of side extensions in the Kwidzyn Lowlands. (prepared by M. Prarat)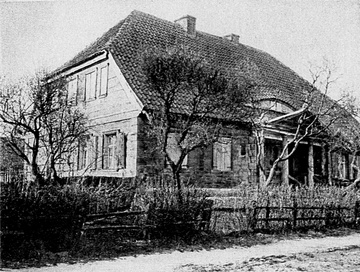 39. A masonry homestead with and indent arcade, from Wi¶liny village. (H. Wernicke, Bauernhauser..., il. 9)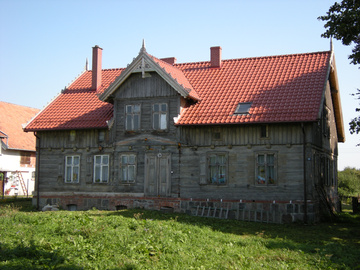 40. Homestead Rudniki 26 from 1903. (phot. M. Prarat, 2008)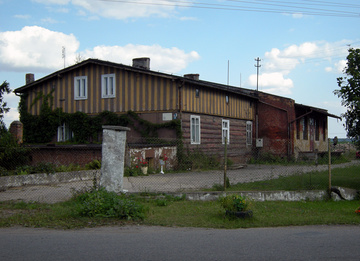 41. Homestead Międzyłęż 34 from the end of the 19th century. (phot. M. Prarat, 2009)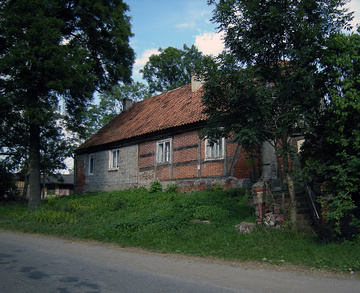 42. Homestead Międzyłęż 30 from the end of the 19th century. (phot. M. Prarat, 2009)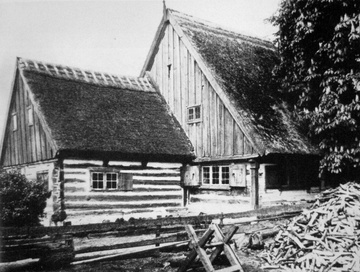 43. Homestead M±towskie Pastwiska 30 from 1779, with an elders' chamber at the gable wall.(Heimat zwischen Weichsel..., p. 283)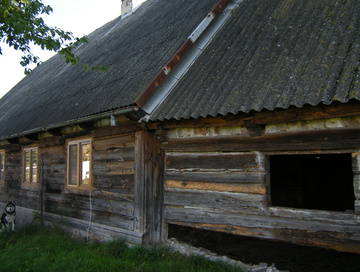 44. Homestead M±towskie Pastwiska 30 from 1779, with an elders' chamber at the gable wall. Visible trusses of the chamber of elders from the end of the 18th century and the longitudinal wall replaced at the beginning of the 20th century. (phot. M. Prarat, 2008)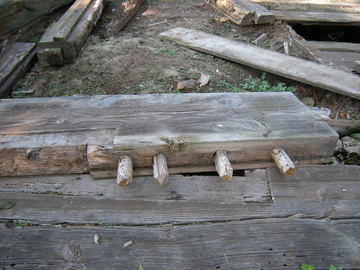 45. M±towskie Pastwiska 30. A house for workers from 1827. Visible tenons in the tie beam wall. (phot. M. Prarat, 2008)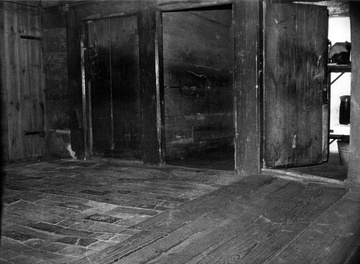 46. Homestead M±towskie Pastwiska 30 from 1779. The floor of the hallway is partly paved with brick and partly made of wood. (phot. MET, sign. I-555-92)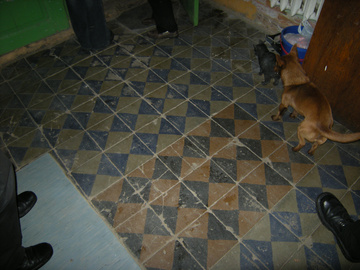 47. Homestead Kaniczki 4 from the beginning of the 19th century. The hallway floor is paved with decorative ceramic tiles. (phot. M. Prarat, 2008)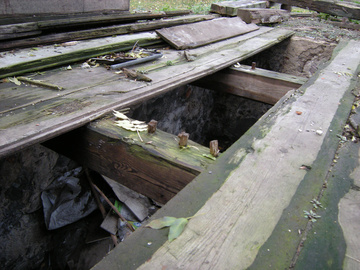 48. M±towskie Pastwiska 30. A house for workers from 1827. Visible floor planks set with wooden pegs. (phot. M. Prarat, 2008)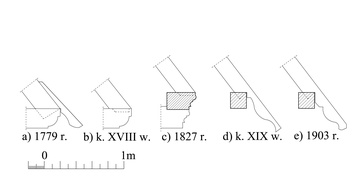 49. Presentation of connections of rafters with truss beams over ages. (prepared by M. Prarat)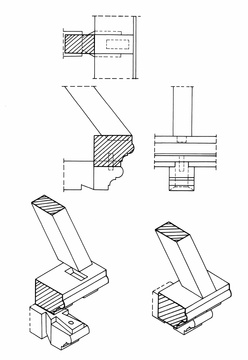 50. M±towskie Pastwiska 30. A house for workers from 1827. Setting of rafters on the rafter plate and on the roof truss beam. Axonometry. (prepared by M. Prarat)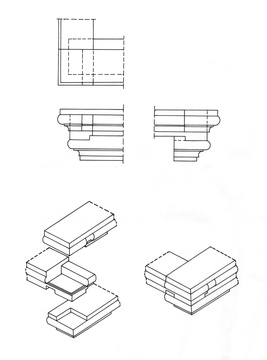 51. M±towskie Pastwiska 30. A house for workers from 1827. Setting of the rafter plate and the truss beam. Corner. Axonometry. (prepared by M. Prarat)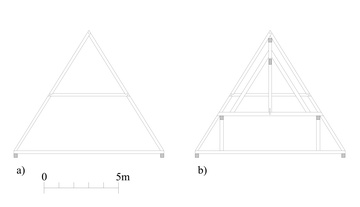 52. Kaniczki 4, the 1st quarter of the 19th century, a) original double collar beam truss, b) a truss reinforced with a stud frame and a suspension rod at the end of the 19th century (prepared by M. Prarat)




53. M±towskie Pastwiska 30. A house for workers from 1827. A cross section. (prepared by M. Prarat)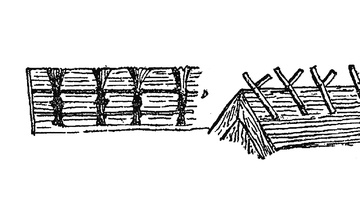 54. Finishing of the roof ridge on the roofs in the Kwidzyn Lowlands. (W. Łęga, il. 32, s.38)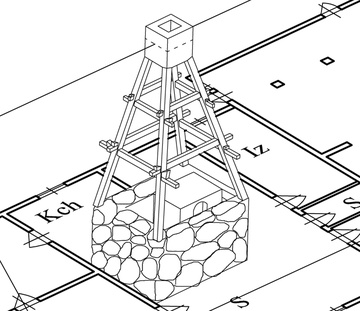 55. Homestead M±towskie Pastwiska 30 of 1779. Black kitchen made of a field stone and a bottle and bobstay chimney. (prepared by M. Prarat)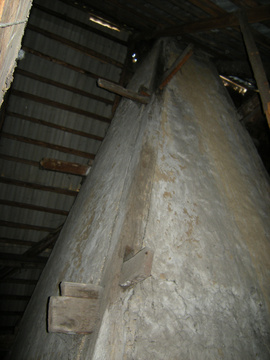 56. Homestead M±towskie Pastwiska 30 z 1779. A bobstay chimney. (phot. M. Prarat, 2008)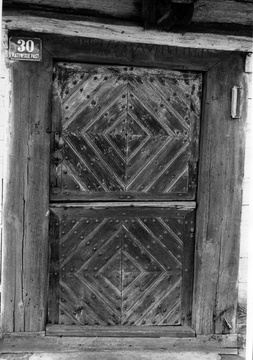 57. Homestead M±towskie Pastwiska 30 of 1779. Entry doors made with planks and pegs (sign.I-512-92)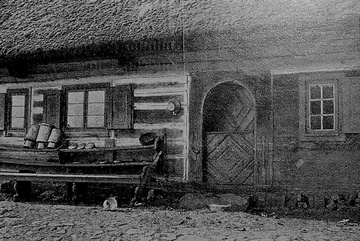 58. Homestead of farmer Franz from Zwanzigerweide. (Schmid B., Kreis Stuhm, il. 98, p. 325)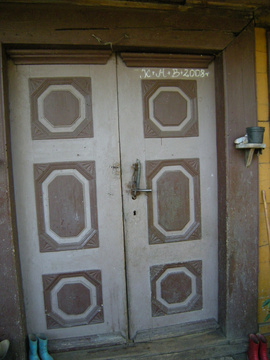 59. Homestead Bronisławowo 10 of 1847. Frame and panel doors with decorated panels. (phot M. Prarat, 2008)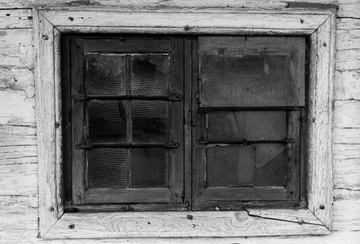 60. Homestead M±towskie Pastwiska 30 of 1779. Original frame windows glassed in lead. (MET, sign. I-513-92)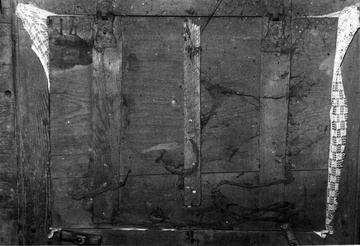 61. Homestead M±towskie Pastwiska 30 of 1779. Original frame windows with a plank and peg shutter closed from below (MET, sign. I-554-92)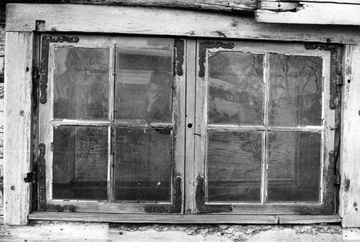 62. Homestead M±towskie Pastwiska 30 z 1779. Frame windows with decorative hinges, glazed with glazing putty. (MET, sygn. I-520-92)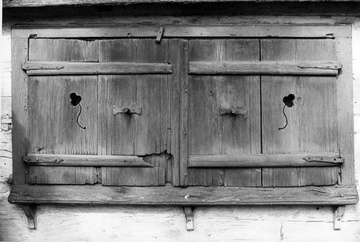 63. Homestead M±towskie Pastwiska 30 z 1779. Frame windows with plank and peg shutters. (MET, sygn.I-518-92)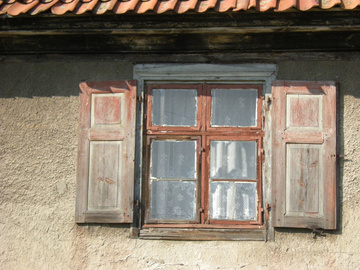 64. Bronisławowo 10. 1847. Frame window with a window cross and frame and panel shutters. (phot. M. Prarat, 2008)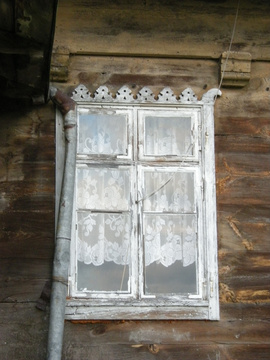 65. Lipianki 1, end of the 19th century. Frame window with a window cross. Window header in the form of an openwork wooden strip. (phot. M. Prarat, 2008)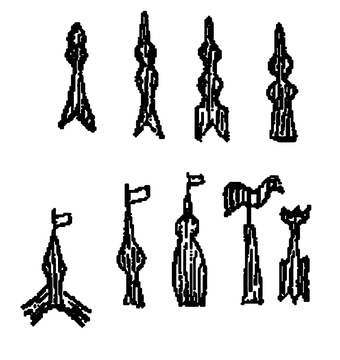 66. Presentation of pazdurs (vertical decorations on the roof top, in the form of a lilly, tulip, cross or an arrowhead) found in the Kwidzyn Lowlands, acc. to W. Łęga. (W. Łęga, il. 33, p. 39)




67. Homestead M±towskie Pastwiska 30 from 1779. Inscription on the main door header. (phot. M. Prarat, 2008)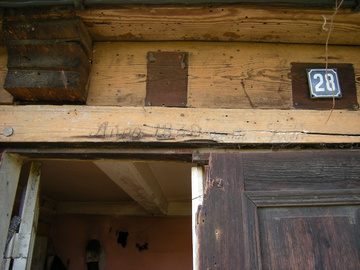 68. Homestead Bronisławowo 10 from 1830. Inscription on the main door header. (phot. M. Prarat, 2008)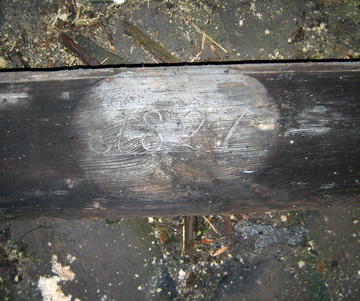 69. Homestead M±towskie Pastwiska 30. A house for workers from 1827. Date of building on the mainn door header. (phot. M. Prarat, 2008)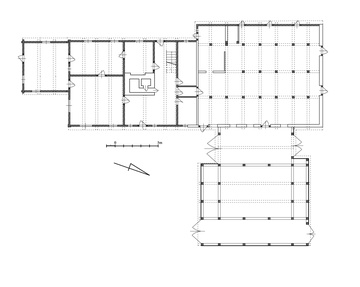 70. Homestead M±towskie Pastwiska 30 z 1779 r. Plan of the basement. (prepared by M. Prarat on the basis of M±towskie Pastwiska 30, KEZAIB)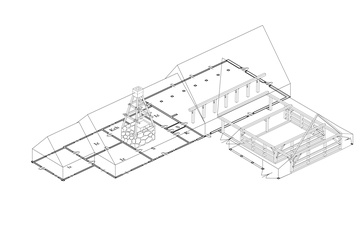 71. Homestead M±towskie Pastwiska 30 from 1779. Axonometric drawing with reconstruction of a skeleton barn and elements of a wooden cowshed. (prepared by M. Prarat)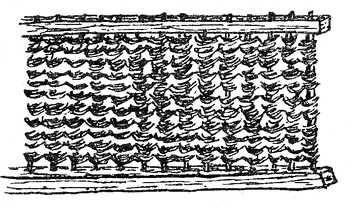 72. Filling of the skeleton structure spaces of a grain partition in a barn in the Kwidzyn Lowlands, acc. to W. Łęga. (W. Łęga, il. 40, p. 42)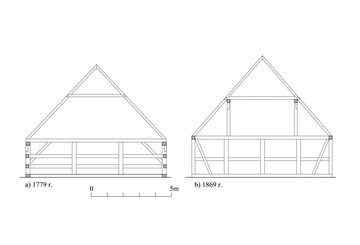 73. A skeleton barn truss scheme; a) M±towskie Pastwiska 30, b) Barcice 20. (prepared by M. Prarat)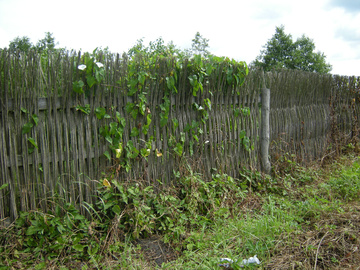 74. Okr±gła Ł±ka, stick fence. (phot. M. Prarat, 2008)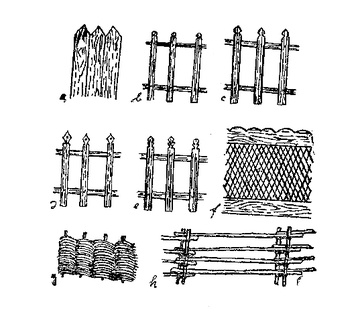 75. Types of fences acc. to W. Łęga. (W. Łęga, il. 45, p. 45)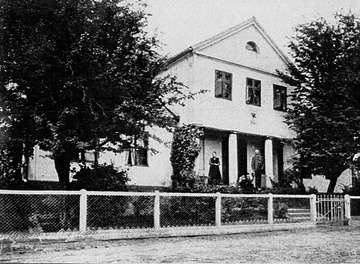 76. A masonry homestead with a an indented arcade from Ryjewo village. (H. Wernicke, Bauernhauser..., il. 10)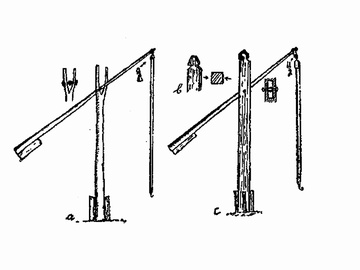 77. Types of cranes acc. to W. Łęga. (W. Łęga, il. 43, p. 43)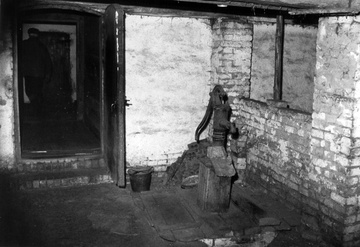 78. A cast-iron pump in the cowshed of homestead M±towskie Pastwiska 30. (MET, sygn. I- 563-92)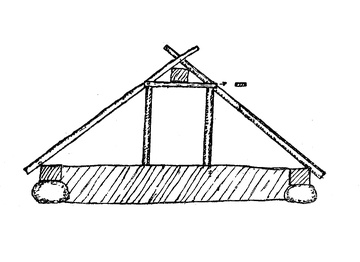 79. Section of a cellar from Janowo village, acc. to W. Łęga. (W. Łęga, il. 38, p. 41)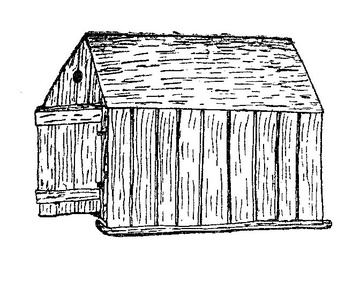 80. A shelter of a herdsman from the region of the Kwidzyn Lowlands, acc. to W. Łęga (W. Łęga, il. 42, p. 42)