gm. Leoncin, pow. nowodworski, woj. mazowieckie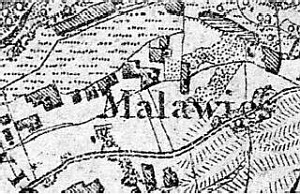 The village was founded by the Dutch settlers in the first half of the century. In 1827, it had 7 houses and 53 residents.
Mała Wieś Przy Drodze is a linear village located to the north of the Vistula between the river and an old Nowy Kazuń-Kamion road. The village is located along an east-west line with homesteads situated on the northern side of the dirt road that runs through the village.
The cultural landscape has been modified; it is not detectable. The buildings are modern.

---
SGKP, t. VI, 1885, s. 29.