gm. Gostynin, pow. gostyniński, woj. mazowieckie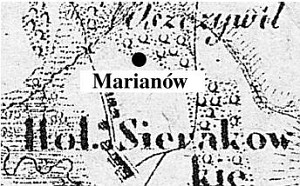 Originally, the village was probably part of the settlement of Holędry Sierakowickie, which was founded ca. 1796. It was mentioned for the first time as a separate settlement in 1885. At that time, it had 8 houses and 170 residents. The village had 80 morga of arable land suitable for rye. Marianów is a linear village located to the west of Sieraków along the road to Osiny. The homesteads are located on both sides of the road; some of them (on the northern side) are situated in certain distance and form a colony.
The cultural landscape characteristic for the Dutch settlement has been transformed; however, one example of the Dutch building has survived. It is located by the road that goes to the village of Maciejówek (north-bound direction).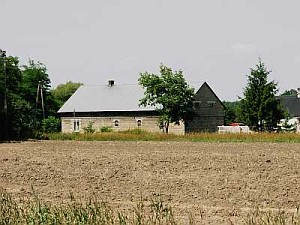 The house has no number and was erected before 1945. Its residential section is located on the southern side of the building. The building is made of hollow bricks bonded with cement-lime mortar. It is covered with a rafter, double-pitched roof, which rests on pointing sills and is roofed with sheet metal. The farm section is located on the northern side. The building is preserved in a good condition.

---
SGKP, t. VI, 1885, s. 149.