gm. Brochów, pow. sochaczewski, woj. mazowieckie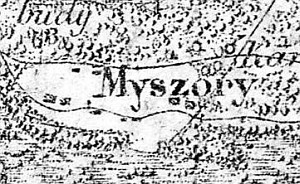 The village was settled by Dutch colonists, most probably at the end of the 18th century. In 1827, it had 21 houses and 165 residents. The village is located in the north-western part of the Kampinos forest, to the east of Wilcze Tułowskie.
The traditional cultural landscape has been entirely transformed. The cemetery is situated on the northern side of the road in central part of the village. Possibly, it was founded in 1871 - the date, which was carved on the stone located under the centrally located cross. The cemetery has been destroyed. The only preserved gravestone belongs to Wilhelm Gischke (1851-1911).

---
SGKP, t. VI, 1885, s. 844;
T. Swat, Mennonici na Mazowszu...