gm. Szczawin Kościelny, pow. gostyniński, woj. mazowieckie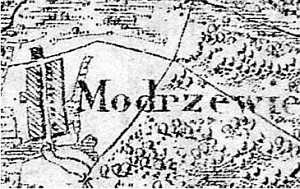 The village was settled by the Dutch colonists before 1796. In 1798, it already had an Evangelical school. In 1885, it was part of the Trębki estate. The village had 16 houses, 126 residents, and 200 morga of arable land and 76 morga of meadows.
Modrzew is a linear village located on the western side of the Szczawin Kościelny - Trębek road.
The cultural landscape characteristic for the Dutch colonization has been transformed; however, its certain elements are still visible: planted willows and poplars. There are no historical objects characteristic of this colonization.

---
Dzieje Gostynina...;
SGKP, t. VI, 1885, s. 574.