gm. G±bin, pow. płocki, woj. mazowieckie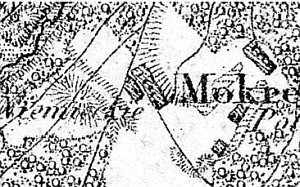 Wie¶ powstała przed 1790 r. W 1885 r. miała 15 domów, 152 mieszkańców i 228 morgów gruntu. Usytuowana była w niej ewangelicka szkoła elementarna.
The village was founded before 1790. In 1885, it had 15 houses, 152 residents, and 228 morga in area. It had an Evangelical elementary school. The village has not survived. Originally, it was located on the eastern side of the Osetnica river to the north-east of the Lucieńskie lake. The former area of the village is completely forested. The cemetery is all that remains after the Dutch colonists.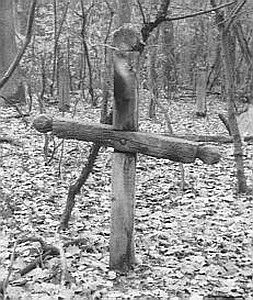 The cemetery is located on the eastern side of the river and the road the runs through the forest along a north-south line (the original village layout). The cemetery is located on a natural rise on an irregular plan. Originally it was surrounded with a fence (a chain used to be spread between metal posts, which have survived to the present day). Remains of a cement gravestone and a wooden cross (carved decoratively at the ends) have survived in the southern section of the cemetery.

---
Taryfa;
SGKP, t. VI, 1885, s. 626.