gm. Karczew, pow. otwocki, woj. mazowieckie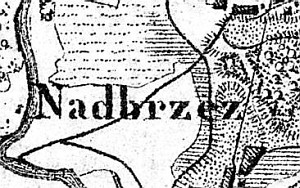 The village was settled by the Dutch colonists, most probably, at the beginning of the 19th century. In 1827 it had 30 houses and 270 residents. It belonged to the Otwock estate. In 1885, the village had 223 residents and 218 morga in area.
Initially, Nadbrzeż was a linear village; currently, it is has a multi-street layout. It is located on the eastern side of the Vistula and to the north of Otwock Wielki.
The village has been significantly transformed. The object, which might be associated with the Dutch colonization are located in the northern section of the village - fields furrowed with drainage canals and planted with willows and poplars. No traditional Dutch buildings are present.

---
SGKP, t. VI, 1885, s. 856.