gm. Strzelce, pow. kutnowski, woj. łódzkie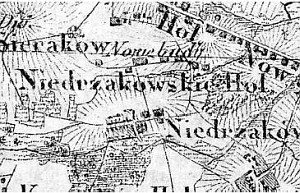 This linear village was settled by the Dutch before 1796. In 1827 it had 7 houses and 51 residents. In 1886, the number of residents increased to 77. At that time, the villagers cultivated had 148 morga of land.
The village is situated along an east-west line, by the dirt road that leads westward to the Sieraków-Trębki road. The buildings lie on both sides of the road; the homesteads have been built on a rectangular plan and are located on a natural rise above the fields.
The building is in a good condition. Although, there are no traditional buildings associated with the Dutch colonization, a field layout with planted willows and drainage canals and ditches are detectable on both southern and western sides of the village.

---
SGKP, t. VII, 1886, s. 58;
M. Zbieranowski, Wypisy do słownika wsi holenderskich...