gm. Leoncin, pow. nowodworski, woj. mazowieckie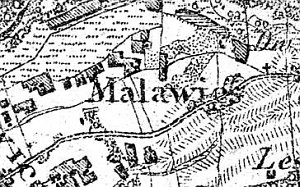 The Dutch colonists settled the village, most probably at the turn of the 18th and 19th centuries in relation to the colonization of the neighboring areas. In 1827, the village had 5 houses and 83 residents.
Nowa Mała Wieś is a linear village situated along the southern riverbed of the Vistula, to the north of Leoncin. The settlement stretches along an east-west line by the dirt road that runs westward towards the Kazuń-Kamion road.
The traditional Dutch cultural landscape has been modified; it is barely detectable. There are no historical objects characteristic of this colonization. New buildings were erected in the 1990s. The traditional homesteads have been transformed. The last historical object dating from 1938 was taken down in 1994. It included only a residential section.

---
SGKP, t. VI, 1885, s. 29.