gm. Strzelce, pow. kutnowski, woj. łódzkie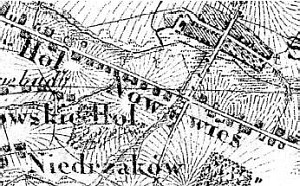 The village was settled by the Dutch colonists at the end of the 18th century. Ca. 1800, it already had an Evangelical school. In 1827, the village had 39 houses and 352 residents. Ca. 1880, it had an elementary school, two windmills, 42 houses, 811 Evangelical residents, and 650 morga of land. The villagers manufactured oil, among other things.
Nowa Wieś is a linear village; it is situated on both sides of the Sieraków-Trębelki road, on a natural rise. A small river runs by the village on its northern side.
The cultural landscape is well preserved with a detectable field layout and planted willows and poplars. There are no traditional buildings associated with the Dutch colonization.

---
Dzieje Gostynina...;
SGKP, t. VII, 1886, s. 198.