gm. Brochów, pow. sochaczewski, woj. mazowieckie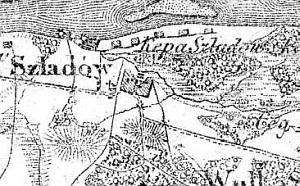 Nowa Wieś Śladów is a linear village and was settled by the colonists, most probably, in the first half of the 19th century. In 1875 the village had 614 residents.
The village is located on the southern side of the Nowy Kazuń-Kamion road with homesteads located on both sides of the road.
The cultural landscape associated with the colonization is very well preserved - numerous trees and bushes planted around the homesteads and on balks, a preserved field layout, and drainage canals channeling excess water to the Kanał Kromnowski. The buildings are modern and some of them are located on artificial rises; no examples traditional architecture associated with the Dutch colonization have survived.
The cemetery was established on the rectangular plan and is located in the western section of the village on the northern side of the dirt road that runs through the village. It is located on a man-made rise and borders the school area. 13 partially damaged gravestones have survived. They date from the end of the 19th and beginning of the 20th centuries. A gravestone of Jakob Stefan Drachnberg from 1882 is in best condition.

---
SGKP, t. VII, 1886, s. 198.