gm. G±bin, pow. płocki, woj. mazowieckie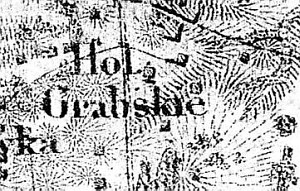 The village was founded by the Dutch settlers before 1796. In 1827, it had 40 houses and 390 residents, while in 1881, 44 houses and 433 residents (including 327 Evangelicals and 106 Catholics). At that time, the village had 903 morga in area, including 863 morga of arable land suitable for rye and 40 morga of meadows.
Nowe Grabie is a linear village located to the west of the Dobrzyków-G±bin road along an east-west line.
The cultural landscape characteristic for the Dutch colonization has been transformed; however, certain elements are still visible, for example, planted willows and poplars. The colonists former presence is confirmed by a cemetery located in the north-eastern section of the village.
The cemetery was established on the rectangular plan and is located on the northern side of the paved road that runs through the village. It has an unpaved driveway. It has been unattended and overgrown with bushes and old trees. Remains of shattered gravestones are detectable.

---
SGKP, t. II, 1881, s. 765.