gm. Czosnów, pow. nowodworski, woj. mazowieckie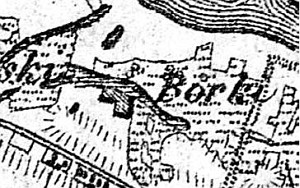 The Dutch colonists (several families) settled in the village at the beginning of the 19th century, by purchasing land from Poles. The village of Borki was included in the Łomno estate; in 1884 the village had 3 homesteads and 101 morga of land.
Initially, Borki was a linear village located to the south-east of Nowy Kazuń, between Łomno and Czosnowo. The village no longer exists; it has been incorporated into the limits of Łomna.
The cultural landscape has been transformed. The homesteads have modern buildings located close to the street on an embankment that stretches along the river.
Remains of traditional landscape (pond and drainage canals, planted vegetation) are visible on the meadows and pastures, which are situated lower towards the Vistula.

---
E. L. Ratzlaff, Im Weichselbogen. Mennonitensiedlungen...; SGKP, t. V, 1884, s. 691.