gm. Szczawin Kościelny, pow. gostyniński, woj. mazowieckie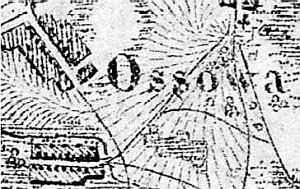 The village was settled by the Dutch colonists before 1796. In 1886, it had 20 houses and 172 residents, who cultivated 395 morga of land. It had an Evangelical elementary school.
Osowia is a linear village located on the western side of the Szczawin Kościelny - Trębek road.
The cultural landscape characteristic for the Dutch colonization has been completely transformed; no evidence of the Dutch colonists is present.
---
SGKP, t. VII, 1886, s. 659;
M. Zbieranowski, Wypisy do słownika wsi holenderskich...