gm. Ożarów Mazowiecki, pow. warszawski zachodni, woj. mazowieckie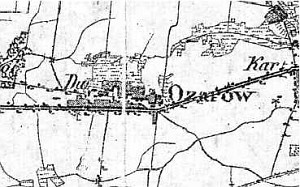 Ożarów Mazowiecki is a former village located to the west of Warsaw. In 1827, it had 32 houses and 257 residents. In 1886 the village had 138 morga of land. The Dutch settlers (several Mennonite families) inhabited Ożarów at the beginning of the 19th century; they were attended to by the Elder of the Kazuń Niemiecki church.
---
E. L. Ratzlaff, Im Weichselbogen. Mennonitensiedlungen...;
SGKP, t. VII, 1886, s. 792.