gm. G±bin, pow. płocki, woj. mazowieckie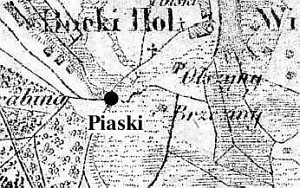 The village was probably founded at the beginning of the 19th century as result of growth of large Dutch villages (Wymy¶l Niemiecki and Borki); it was established by the road between these villages. In 1887, the village had 137 inhabitants and 285 morga of peasant land.
Piaski is a linear village; it is located on the northern side of the Słubice-Dobrzykowo road between Borki (on the west) and Nowy Wymy¶l (on the east). The homesteads are built on a rectangular plan with the longer side adjoining the dirt village road and are located on its both sides. The village is partially situated in a depression (northern section) on a slope leaning towards a drainage canal.
The cultural landscape is well preserved. All elements associated with the Dutch colonization are detectable - planted vegetation, drainage canals, fields with planted willows and poplars, and traditional homesteads. Two houses dating from before 1945 have survived (no. 7 and 9). They are situated on the northern (masonry) and southern (wooden) sides of the village road. The have been considerably transformed after 1945.
---
SGKP, t. VIII, 1887, s. 49.