gm. Brochów, pow. sochaczewski, woj. mazowieckie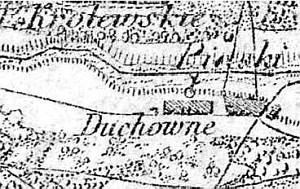 The village was mentioned for the first time in 1420. Originally, it belonged to the monastery in Czerwińsk. Later, it was a royal village. The Mennonites settled here probably at the end of the 18th century. In 1827, the village had 20 houses and 164 residents. In 1887, the village had 123 inhabitants and 303 morga of cultivated land. It also had a general elementary school.
Piaski Duchowne is situated between the Vistula riverbed and the Kampinos forest. It stretches along an east-west line on the southern side of the Nowy Dwór Mazowiecki - Kamion road, along the Kanał Kromnowski.
The original layout of the village associated with the Dutch colonization has been transformed and is not detectable.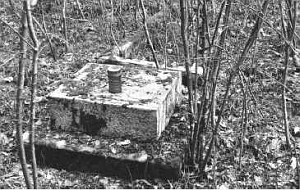 Cemetery - located to the west of the village on the northern side of the road. It is situated on the artificial rise and is entirely overgrown with old trees and bushes. Several damaged gravestones with inscriptions (also in Polish) have survived. The gravestone of Ewa from Rupplów Marchwart, who deceased in 1905, was made by the Marankiewicz company from Płock. .

---
SGKP, t. VIII, 1887, s. 49;
T. Swat, Mennonici na Mazowszu.