gm. Iłów, pow. sochaczewski, woj. mazowieckie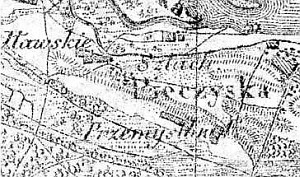 The village was mentioned in 1449. The colonists settled in its outskirts near Vistula at the end of the 18th century. In 1827, the village had 25 houses and 152 residents. In 1887, the village had 96 inhabitants and 446 morga of peasant land.
Pieczyska Iłowskie is a linear village located on the southern side of Vistula, to the north of the Iłów-Słubice near the flood-bank. The homesteads are positioned along an east-west line on man-made rises.
The cultural landscape is very well preserved all elements are detectable - field layout, planted vegetation, driveways, the homestead localization, drainage canals, and ponds. A traditional homestead associated with the Dutch colonization has survived near the flood-bank.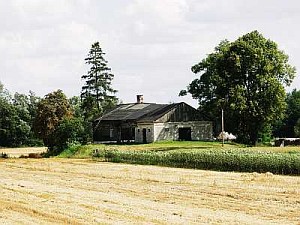 It is a masonry-wooden building (no number), which was erected before 1945; it is situated in the northern part of the village directly by the flood-bank. It is part of a single-building homestead. The building is positioned in an east-west line on an artificial rise with trees planed on its eastern and southern sides. The residential section is located on the eastern side. The residential section is the only original part. It is made of poplar and pine wood and has a corner-notched log structure, joined at corners by dovetail halvings with protruding log ends. It is covered with a double-pitched, rafter-collar beam roof with roofing paper.
The interior has a two-bay and two-and-a-half-axial layout with a hallway, which is open on both sides. A brick fire system is located asymmetrically (in a hallway and a room, closer to the cowshed wall); it has been rebuilt. The farm section was built of cement blocks; it is covered with a double-pitched, rafter roof. This section was erected after 1992. The residential section is in satisfactory condition, the cowshed - in very good condition.

---
SGKP, t. VIII, 1887, s. 75.