gm. Iłów, pow. sochaczewski, woj. mazowieckie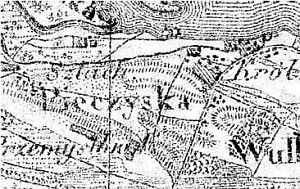 The village was mentioned for the first time in 1563. The Dutch settled on its outskirts near Vistula at the turn of the 18th and 19th centuries. In 1887, the village had 107 residents, who cultivated 190 morga of land. The village was part of the Iłów estate.
Pieczyska Łowickie is a linear village; however, its eastern section has been transformed and currently has a multi-street layout. It located on the southern side of Vistula to the north of the Iłów-Słubice road near the flood-bank. The homesteads are positioned along an east-west line by the main dirt road that runs through the village.
The cultural landscape is very well preserved all elements are detectable - field layout, planted vegetation, driveways, the homestead localization, drainage canals, and ponds. There are no preserved buildings associated with the Dutch colonization.
---
SGKP, t. VIII, 1887, s. 75.