gm. Warszawa-Białołęka, pow. warszawski, woj. mazowieckie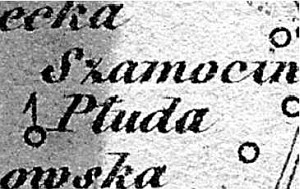 Płudy is a former village, currently located in the north-eastern section of Warsaw to the east of Modlińska street. In the 19th century, the village was part of the Tarchomin estate, which belonged to P. Muchanow and M Kalergis-Mucahnow. By 1886, the village had 27 residents, while in 1904 - 23 houses and 209 residents. In 1951, the village was incorporated into the city of Warsaw. The Dutch settlers (several Mennonite families) inhabited Płudy at the beginning of the 19th century; they were attended to by the Elder of the Kazuń Niemiecki church.
---
Encyklopedia Warszawy;
E. L. Ratzlaff, Im Weichselbogen. Mennonitensiedlungen...;
SGKP, t. VIII, 1887, s. 326.