gm. Gostynin, pow. gostyniński, woj. mazowieckie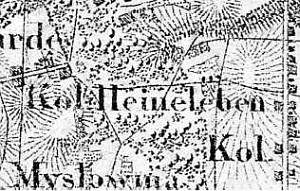 The village was founded at the end of the 18th century. Ca. 1800, it already had an Evangelical school. In 1827, there were 16 houses and 142 residents, while In 1882 - 12 houses and 127 residents. The village acreage included 252 morga of light soil suitable for rye and 60 morga of meadows. At that time the village also had an Evangelical school. Podgórze is a linear village located to the south of the Gostynin-Łąck road along an east-west to the east of the Osetnica river.
The cultural landscape characteristic of the Dutch colonization has been completely transformed. No material evidence of the former residence of colonists is present.
---
Dzieje Gostynina...;
SGKP, t. III, 1882, s. 48;
M. Zbieranowski, Wypisy do słownika wsi holenderskich...