gm. Nasielsk, pow. nowodworski, woj. mazowieckie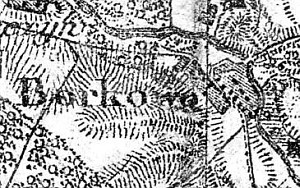 The Dutch colonists were imported at the beginning of the 19th century to drain and cultivate the meadows by the river (eastern part of the settlement).
Initially Borkowo was a linear village; currently, it is has a multi-street layout. Borkowo is located on the western side of the river Wkra and to the south of the Przyborowice-Nasielsk road. The village stretches along a north-south line of the flood-bank.
The cultural landscape has been transformed; however, one house associated with the Dutch has survived in the northern section of the village, next to the flood-bank.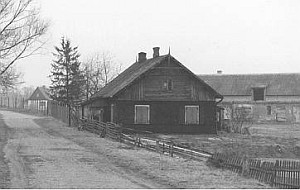 The building has no number. It was made of wood at the beginning of the 20th century and is located along a north-south line. The house is made of pine wood; it has a corner-notched log structure with corners connected by scarf joints; the walls are planked. The house is covered with a double-pitched, rafter-collar beam roof covered with roofing paper. A porch is situated on its eastern side; it has a post structure - boarded. The building is preserved in satisfactory condition.