gm. Iłów, pow. sochaczewski, woj. mazowieckie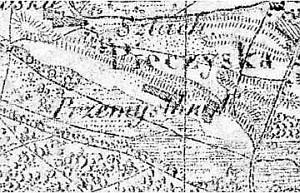 Przemysłów is a linear village founded by the Dutch settlers at the end of the 18th century. In 1827 it had 2 houses and 28 residents. It was part of the government estate Iłów. In 1888, the village had 68 Protestant inhabitants and 113 morga in area.
The village lies on the southern side o the Vistula between Pieczyska Iłowskie and Wola Ładowska. The village stretches along an east-west line with homesteads situated on the man-made hillocks, on the southern side of the dirt road that runs through the village.
The cultural landscape is in good condition - abundant willows and poplars planted along balks and dirt roads, drainage canals that channel out excess of groundwater to the river, which borders the village from the south. No objects of traditional Dutch architecture are present.
---
SGKP, t. IX, 1888, s. 172;
M. Zbieranowski, Wypisy do słownika wsi holenderskich...