gm. Strzelce, pow. kutnowski, woj. łódzkie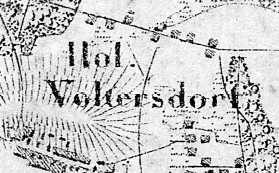 The village was founded by the Dutch settlers before 1803. In 1827, it had 24 houses and 190 residents, while in 1893 - 315 residents, 458 morga of land, and an elementary school.
Rejmontów is a linear village located on the eastern side of the Kutno-Trębki road, along an east-west line with buildings on both sides of the village road. The cultural landscape has been transformed; no elements characteristic for the Dutch colonization are present. Nonetheless, one homestead associated with the settlers has survived..
A masonry building (no number), which was erected at the beginning of the 19th century is situated in the eastern part of the village on the southern side of a single-building homestead. The house faces the road with the ridge and is surrounded with lush vegetation. The building is made of stone bonded with clay mortar; it is covered with a rafter-collar beam, rye straw thatched roof. An entrance hall has been added to its eastern wall (timber frame structure); it is boarded and covered with a pent roof. A residential section (southern side) and a cowshed are located under one roof. The residential interior has a two-bay and three-axial layout with a centrally located fire system (devastated). The building is in poor condition - not in use.
---
SGKKP, t. XIII, 1893, s. 859.