gm. Słubice, pow. płocki, woj. mazowieckie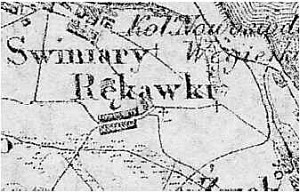 The village was mentioned for the first time in the 14th century; it was settled by the Dutch at the end of the 18th century. In 1827, it had 9 houses and 94 residents, while in 1888 -119 residents and 224 morga in area. Rękawki is a linear village located on the southern side of Vistula in the northern section of the village of Życk Polski, to the south of Nowosiadło. Homesteads are located along an east-west line on artificial rises.
All elements of the traditional Dutch landscape are in very good condition - homesteads, a field layout, drainage canals, driveways and balks planted with willows. The last houses were disassembled in the 1980s.
---
SGKP, t. IX, 1888, s. 637.