gm. G±bin, pow. płocki, woj. mazowieckie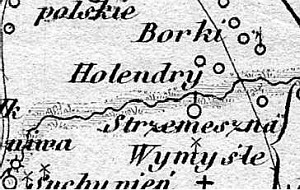 The village was founded by Kajeten Dębowski - a Czermiński starost - in 1781, who "imported honest Dutch: Jakub Koniarski, Jan Koniarski, Wojciech Drews, Wojciech Golik, Dawid Górski among others - free individuals". They settled on 1 włóka and 15 morga of land. In 1889, the village had 87 residents, who cultivated 251 morga of land. Rumunki is a linear village located on the western side of the Dobrzyków-Słubice road. The homesteads stretch along the Nida river and an east-west line.
The cultural landscape characteristic for the Dutch colonization is easily detectable with abundant planted trees and bushes as well as and drainage ditches and canals. One homestead associated with the traditional colonization has survived.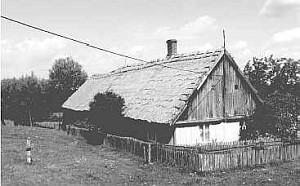 Building no. 1 is a wooden house, erected ca. 1900. It is located near the road on an embankment and faces the road with the ridge. The homestead is surrounded with a wattle fence and can be reached by a dirt driveway. A new residential building is located at the foot of the embankment. The old house borders a pond (surrounded by willows) and a brick chapel on its north-western side. The chapel dates form 1945 - the year when the new owners arrived. The homestead is made of pine wood and has two types of structure: a corner-notched log structure (residential section and cowshed) joined at corners by dovetail halvings with log ends and a planked timber frame structure (barn). The residential (eastern side) and farm (western side) sections are covered with one rafter-queen post roof with rye straw roofing. The interior has a two and a half-bay and three-axial layout with a centrally located, traditional, tile fire system, which is located around a wide, brick chimney. The building is preserved in good condition.
---
AGAD, Księgi Ziemskie Gostynińsko-G±bińskie, Księga 4. Recog et Oblatei 1788-1791, s. 500;
SGKP, t. X, 1889, s. 12.