gm. Słubice, pow. płocki, woj. mazowieckie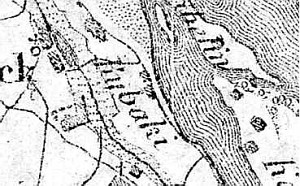 Rybaki is a linear village and was founded by the Dutch colonists at the beginning of the 19th century. In 1827, it had 2 houses and 17 residents. In 1889, the village had 93 residents and 119 morga of land.
The village lies on the southern side o the Vistula between Kępa Kamińska and Kępa Izabela. It stretches to the north of the old flood-bank (it is split by the new flood-bank). Homesteads are located along an east-west line on artificial rises.
All elements of the traditional Dutch landscape are in very good condition - homestead sites, a field layout, drainage canals, driveways and balks planted with willows. The last houses were disassembled in the 1970s.
---
SGKP, t. X, 1889, s. 50.