gm. Słupno, pow. płocki, woj. mazowieckie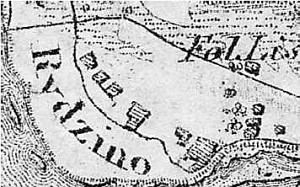 The village was mentioned for the first time in 1239; it was settled by the Dutch at turn of 18th and 19th centuries. In 1827, it had 6 houses and 57 residents. In 1889, it had 5 settlements, 7 houses, 67 residents and 120 morga of land (including 87 morga of cultivated land).
Rydzyno is a linear village situated on the northern bank of the Vistula near the riverbed between Borowiczki and Bielino (from the north) and Liszyno (from the south).
All elements of the traditional Dutch landscape are well preserved - a field layout, drainage canals, driveways (perpendicular to the riverbed) and balks planted with willows. The homesteads and crofts have been completely transformed - large modern farms with large volume buildings have been built on leveled terrain - dispersed layout.
---
SGKP, t. X, 1889, s. 86.