gm. Warszawa-Centrum, pow. warszawski, woj. mazowieckie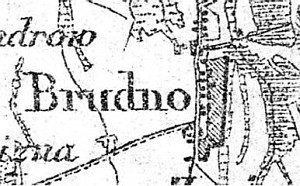 The first mention of the ducal village of Bródno dates from the beginning of the 15th century; in 1433, the village already had the Chełmińskie law. In 16th century it had a status of a royal village. In 1570, the village had approx. 202 ha.
The settlement has been completely burned multiple times; for the last time, it occurred during the November uprising. In the 19th century, it was a dilapidated village with wooden buildings. Ca. 1880, it had 360 houses and 960 residents. In 1916, a part of the village - Nowe Bródno was incorporated into Warsaw and urbanized. The remaining part was incorporated into the capital city in 1951. The Dutch settlers (several Mennonite families) inhabited Bródno at the beginning of the 19th century; they were attended to by the Elder of the Kazuń Niemiecki church.
The village is located to the south of the Toruń route between Pelcowizna, Zacisze, and Lewinów.
No material evidence of the colonists' residence is present.
---
Encyklopedia Warszawy;
E. L. Ratzlaff, Im Weichselbogen. Mennonitensiedlungen...