gm. Ojrzeń, pow. ciechanowski, woj. mazowieckie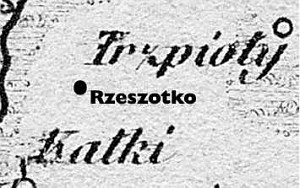 The village was founded ca. 1820. The village was inhabited by Mennonites (from the mid-19th century), who were associated with the Wola Wodzyńska church.
Rzeszotko is a linear village located to the north-east of Ojrzeń by the Łydynia river. The traditional cultural landscape has been transformed; no elements associated with the Dutch colonization have survived.
---
E. L. Ratzlaff, Im Weichselbogen. Mennonitensiedlungen...