gm. Warszawa-Bielany, pow. warszawski, woj. mazowieckie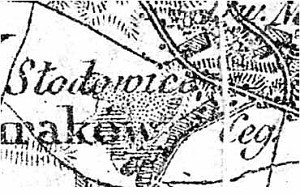 Originally, the name Słodowiec was associated with a watermill located on the edge of the village of Buraków by the canal that supplied water to a pond in Marymont. The watermill was replaced by a steam mill and, at that time, a settlement was established around the mill. In 1889, the village had 100 inhabitants and 10 morga in area. In 1905, the village had 79 residents, steam mill, a grocery store, and a bakery. It was incorporated into Warsaw in 1906. The Dutch settlers (several Mennonite families) inhabited Słodowiec in the second half of the 19th century; they were attended to by the Elder of the Kazuń Niemiecki church.
Currently, the village is located in the north-western section of Warsaw to the north of Armia Krajowa ave. between Broniewskiego and Wólczyńska streets.
No remains have survived after the colonists' residence.
---
Encyklopedia Warszawy;
E. L. Ratzlaff, Im Weichselbogen. Mennonitensiedlungen...;
SGKP, t. X, 1889, s. 813.