gm. G±bin, pow. płocki, woj. mazowieckie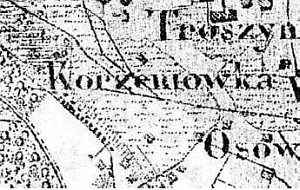 The village was settled by the Dutch at the end of the 19th century. Their arrival was associated with the Dutch colonization of the neighboring area of Troszyn. Stara Korzeniówka is a linear (western part) and a multi-street (eastern part) village located on the eastern side of Dobrzyków-Słubice road. The cultural landscape characteristic for the Dutch settlement is well preserved - field layout, planted willows and poplars, and drainage canals. There are three masonry-buildings characteristic for a Dutch village - two of them have been considerably transformed and the other one only slightly.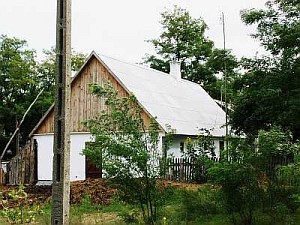 Building no. 6 is a masonry house dating from the beginning of the 20th century. It is located in the eastern section of the village on the northern side of the road. The building's ridge faces the road. The building is positioned in an east-west line. A residential section (eastern side) and a cowshed (western side) are covered with common rafter-queen post roof with sheet metal roofing. The residential interior has a two-bay and two-span layout with a centrally located chimney. The fire system has been rebuilt; it is modern. The building is in good condition.