gm. Młodzieszyn, pow. sochaczewski, woj. mazowieckie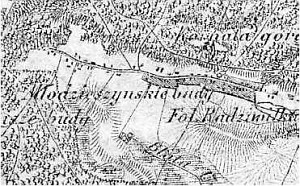 The village was settled by the Dutch colonists at the end of the 18th century. In 1827, it had 45 houses and 325 residents. In 1890, the village had 421 inhabitants, 77 homesteads and 1299 morga in area. Stare Budy is a linear village located to the north of Młodzieszyn, along an east-west line with buildings on both sides of the road.
The cultural landscape has been modified. The buildings are modern. The homesteads are dispersed and have a rectangular layout.
---
SGKP, t. XI, 1890, s. 234.