gm. Warszawa-Białołęka, pow. warszawski, woj. mazowieckie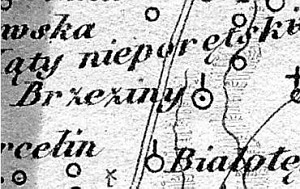 The village of Brzeziny was not a Dutch settlement; however, the Dutch settlers (several Mennonite families) inhabited Brzeziny at the beginning of the 19th century. They were attended to by the Elder of the Kazuń Niemiecki church. In 1827, the village had 34 houses and 264 residents. The village is located on the eastern side of the Żerański canal, to the north of Białołęka.
---
E. L. Ratzlaff, Im Weichselbogen. Mennonitensiedlungen...;
SGKP, t. I, 1880, s. 416.