gm. G±bin, pow. płocki, woj. mazowieckie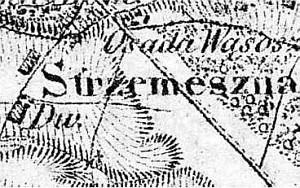 The first mention of the village dates from 1530. In 1827 the village had 13 houses and 141 residents. In 1886, the village had 15 homesteads and 180 morga of land. The eastern section of the village was settled by the Dutch at the beginning of the 19th century.
Strzemieszno is a linear village located to the west of the Iłowo-Dobrzyków road between G±bino and Piaski (situated by the road) on an embankment above the Vistula's old riverbed.
Practically, the cultural landscape has been completely transformed. No material evidence for the colonists' residence has survived.

---
SGKP, t. XI, 1890, s. 475.