gm. Iłów, pow. sochaczewski, woj. mazowieckie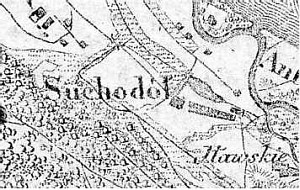 Suchodół is a linear village founded by the Dutch in 1789. The colonists Piotr Rynas, Krystian Kle¶, Jakub Goł±bek, Piotr Pankrac, and Piotr Ładyszka settled in Łęg Suchodolski on 3 włóka and 4 morga under agreement with Gostynin region cze¶nik (administrative honorary title) Stanisław Zabłocki. In 1827, the village had 8 houses and 77 residents. In 1890, the settlement was inhabited by 149 residents, who cultivated 264 morga of land.
The village lies on the southern bank o the Vistula between Piotrkówek and Władysławowo. Originally, the buildings were located on both sides of a low flood-bank, which ran through the middle of the village (currently a road is located upon it). Nowadays, the buildings are positioned along the river and are separated from it by a new flood-bank. The homesteads can be reached by driveways, which run from the main road in southern and northern directions. The homesteads are located on man-made rises.
The cultural landscape is very well preserved - it has a detectable field layout with willows planted on the balks as well as drainage canals and ponds collecting excess water. No examples of the traditional architecture have survived.

---
AGAD, Księgi Ziemskie Gostynińsko-G±bińskie. Księga 4. Recog. et Oblatei 1788-1791, s. 475;
SGKP, t. XI, 1890, s. 535.