gm. Czosnów, pow. nowodworski, woj. mazowieckie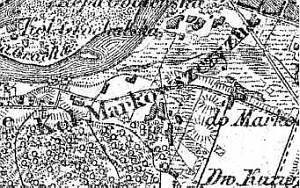 The village was founded by Dutch in the beginning of the 19th century. Initially, the settlement was part of the village of Markowszczyzna. In 1889, the village had 83 inhabitants and 125 morga of peasant land.
Originally Syndykowszczyzna was a linear village with homesteads located on the southern bank of the Vistula, to the West of Nowy Kazuń along the road from Kazuń-Bielany to Sady. The settlement has been incorporated into nearby Kazuń.
The cultural landscape has been transformed; however, a field layout with roads located on balks and drainage canals and ponds are still visible. No authentic buildings or remains of the original homesteads are present.

---
SGKP, t. X, 1889, s. 464.