gm. G±bin, pow. płocki, woj. mazowieckie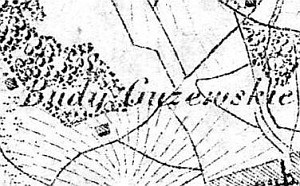 Dutch colonists were imported to Budy Guzewskie at the beginning of the 19th century. At the end of the 19th century, the village had 15 houses and 160 residents; it occupied 588 morga of land, including 450 morga of arable land, 60 morga of forest, and 46 morga of meadows. Budy Guzewskie is a linear village with dispersed homesteads located to the south of the Szczawin Borowy-G±bin road. The village has modern buildings. The cultural landscape characteristic for the Dutch colonization has been transformed. No material evidence for the colonists' residence has remained.
---
SGKP, t. II, 1881, s. 919;
M. Zbieranowski, Wypisy do słownika wsi holenderskich na Mazowszu.