gm. G±bin, pow. płocki, woj. mazowieckie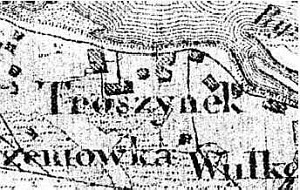 Troszynek is a linear village and was settled by the colonists at the same time as Troszyn Niemiecki (Nowy Troszyn) and after 1759 it became part of that village. In 1827, the village had 16 houses, in 1892 - 19 houses and 162 residents (128 Catholics and 34 Evangelicals) and 215 morga in area (100 morga of arable land).
The village is located on the southern side o the Vistula to the south of Nowy Troszyn. The buildings are located on both sides of the dirt village road along an east-west line.
The cultural landscape is well preserved - it has a detectable field layout with willows, dirt roads, and drainage canals that channel water excess to a large canal that borders the village from the north. No buildings associated with the Dutch colonization have survived.

---
SGKP, t. XII, 1892, s. 513.