gm. Słubice, pow. płocki, woj. mazowieckie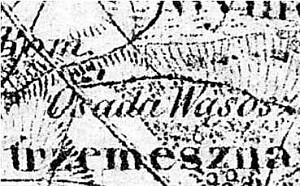 The village was settled by the Dutch at the end of the 18th century; it was part of the Czermno estate. In 1827, it had 7 homesteads and 49 morga of land. It has been incorporated into the village of Sady. Wąsosz is a linear village located on the southern side of the Vistula to the north of Juliszewo.
The cultural landscape associated with the Dutch colonization is very well preserved with the original field layout, trees planted around the homesteads and on the fields, drainage canals, and wattle fences.
---
SGKP, t. I, 1880, s. 811.