gm. Iłów, pow. sochaczewski, woj. mazowieckie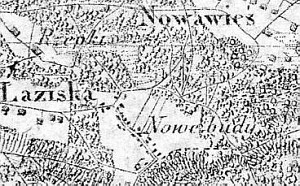 Budy Iłowskie was a Dutch village founded ca. 1760. The geographic dictionary of the Kingdom of Poland... from 1882 states that: "Germans, Evangelicals were imported by the earlier landowners ca. 1760 and settled on the muddy, inaccessible, overgrown with bushes areas located by the Vistula river. They cleared and drained meadows". Ca. 1900, the village had 193 residents on 518 morga of land.
Budy Iłowskie is a linear village located to the north of the Młodzieszyn-Iłów road and to the east of Rzepki. The buildings are located along the village road along a north-south line on a natural rise.
The cultural landscape of the village is well preserved with a detectable field layout, planted trees, and roads planted with willows. The village has modern buildings. No buildings associated with the traditional colonization have survived.
---
SGKP, t. III, 1882, s. 270, t. XV, 1900, s. 622.