gm. Słubice, pow. płocki, woj. mazowieckie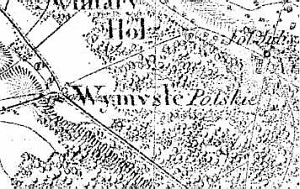 The village was colonized by the Dutch settlers ca. 1786. At that time the village was inhabited by five farmers, who did not pay any rent - three of them paid in corvée labor (one week, on foot), one worked in the manor, and the fifth one was exempted from the rent for 6 years according to the contract, which was signed on October 24, 1786. In 1827, it had 8 houses and 92 residents; in 1895 - 15 houses and 154 residents.
Wymyśle Polskie is a linear village located on the southern side of the Vistula at the intersection of the Iłów-Dobrzykowo and Gąbino-Życko Nowe roads.
The cultural landscape has been modified and urbanized; it is not detectable. There are no preserved buildings associated with the Dutch colonization.

---
Lustracja, s. 235;
SGKP, t. XIV, 1895, s. 97;
M. Zbieranowski, Wypisy do słownika wsi holenderskich...