gm. Dąbie, pow. kolski, woj. wielkopolskie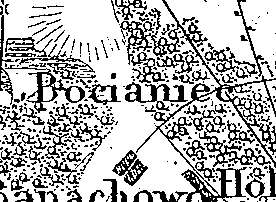 Bocianiec was a gentry village (owned by Rupert Dunin) settled by the Dutch colonists (1 house) in 1790.
Bocianiec is a small linear village located to the north of Dąbie, between Hilarów and Tarnówka. Homesteads are located on both sides of the road running along a northwest-southeast line.
The cultural landscape associated with the Dutch colonization has been slightly transformed. Numerous draining canals located on the northern and eastern side are the most prominent. No examples of traditional architecture associated with the settlers are present; however, several houses erected after the WWII draw on traditional Dutch design.

---
J. Goldberg, Osadnictwo...