gm. Grabów, pow. łęczycki, woj. łódzkie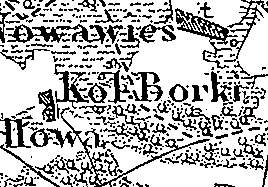 Borki was a gentry village (owned by Jan Nepomucen Zakrzewski) colonized by the Dutch settlers in 1784. In 1880, the village had 37 houses.
Borki is a small linear village located to the northeast of Kadziłów and to the west of Sobótka. Homesteads stretch mainly on the western side of a dirt road running through the village longitudinally.
The cultural landscape characteristic of the Dutch colonization is in good condition. Draining canals and ponds are detectable. No examples of traditional architecture associated with the settlers are present.

---
J. Goldberg, Osadnictwo ...
SGKP, t.I., 1880, s. 312.