gm. Warszawa-Białołęka, pow. warszawski, woj. mazowieckie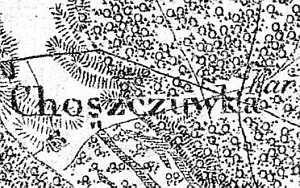 The former village of Choszczówka was founded at the beginning of the 19th century on the previously forested area. Currently, it is located at the following streets: Deseniowa, Mehoffera, and Ślepa. The village was included in the gm. Jabłonna.
In 1877, it had 58 residents, and in 1904 - 61. At the beginning of the 20th century, the village began to transform into a holiday settlement. The village has been incorporated into Warsaw in 1951. The Dutch settlers (several Mennonite families) inhabited Chroszczówka at the beginning of the 19th century; they were attended to by the Elder of the Kazuń Niemiecki church.
No material evidence of the colonists' residence is present.

---
E. L. Ratzlaff, Im Weichselbogen. Mennonitensiedlungen...;
Encyklopedia Warszawy.