gm. Grabów, pow. łęczycki, woj. łódzkie lub Bełchatów, bełchat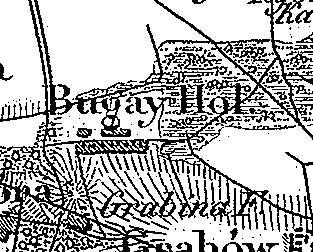 Bugaj was a gentry village (owned by Walenty Chobrzyński) colonized by the Dutch settlers ca. 1782. In 1789, it had 8 houses inhabited by 27 residents. In 1827, the village had 12 houses and 125 residents and in 1880 - 50 houses.
Bugaj is a linear village located to the northwest of Grabowo. The homesteads are located on both sides of the dirt road running through the village latitudinally.
The cultural landscape characteristic of the Dutch colonization is in good condition. The settlement is located on a natural rise with field descending slightly in the northward and southward directions. No examples of traditional architecture associated with the settlers are present. The colonists' cemetery has survived in the southeastern part of the village.

The cemetery has a 60 x 75 m rectangular layout and is entirely overgrown with self-sown trees and bushes. No gravestones have survived. Visible are grave mounds; however, no facing or other grave elements are present.
---
J. Goldberg, Osadnictwo...
SGKP, t.I., 1880, s.452.