gm. Grabów, pow. łęczycki, woj. łódzkie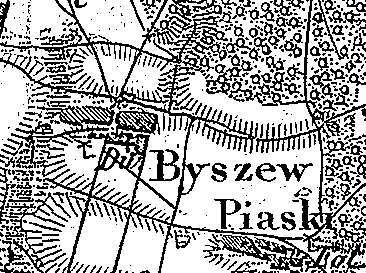 Byszew was a gentry village (owned by Jan Nagórski) colonized by the Dutch settlers in 1785. In 1827, the village had 11 houses and 130 residents.
Byszew is a linear village situated longitudinally and latitudinally (the part initially settled by the Dutch) on the western side of the Kutno - Łęczyca road with homesteads located primarily on the northern side of the road.
The cultural landscape has been transformed, no material remains have survived after the colonists' stay.

---
J. Goldberg, Osadnictwo ...
SGKP, t. I, 1882, s.514.