gm. Koło, pow. kolski, woj. wielkopolskie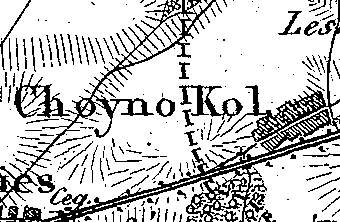 The village was a part of a church estate (owned by Gniezno archbishopric) and was settled by the Dutch colonists ca. 1789 (Grzegorzew parish). . In 1827, the village had 20 houses and 180 residents.
Chojny was a medium size multi-street village located latitudinally to the north of the Kłodawa - Koło road with homesteads situated on the northern side of the road.
The cultural landscape characteristic of the Dutch colonization has been transformed. No material remains of the colonists' residence are present.

---
J. Goldberg, Osadnictwo ...
SGKP, t. I., 1880, s.623.