gm. Czosnów, pow. nowodworski, woj. mazowieckie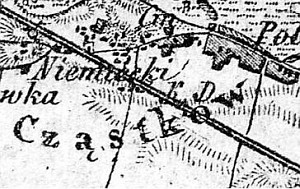 The Dutch colonists - Mennonites, settled in the village in 1803. They purchased half of the acreage that was put up for sale by the village council and founded the settlement of Niemiecki Cz±stków. Among the buyers were: H. Guhr, J. Bartel, P. Frantz, K. G¶rtz, H. Nickel i P. Korber. In 1827, the village had 18 houses and 100 residents and in 1884, 13 houses and 417 morga in area.
Initially, Cz±stków was a linear village; currently, it has a multi-street layout. It is located to the south of Nowy Kazuń and north of Łomna, between the Warszawa-Gdańsk road and the Vistula river. The soil is good and well suited for wheat. The village has not been subject to flooding because it is located on the area elevated above the meadows periodically flooded by the Vistula.
The village has been transformed - all new buildings. The landscape characteristic for the Dutch colonization has been preserved below the building line towards the Vistula. The balks are planted with willows and poplars; ponds, drainage canals, roads leading towards the flood-bank (also planted with trees) are clearly visible.

---
E. L. Ratzlaff, Im Weichselbogen. Mennonitensiedlungen...;
SGKP, t. I, 1880, s. 777; t. V, 1884, s. 691.